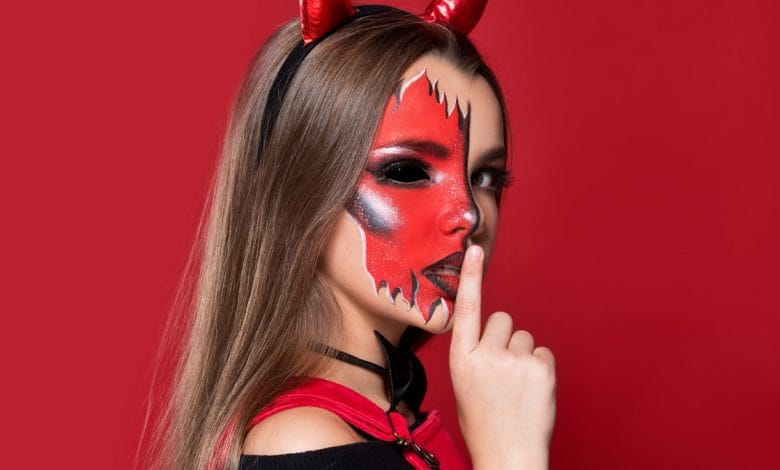 Halloween Eye Makeup Ideas: Get ready to bewitch and bedazzle this Halloween with mesmerizing Halloween eye makeup that will leave everyone spellbound. From hauntingly elegant to fiercely dramatic, we have an amazing lineup of the best Halloween eye makeup looks. Whether you're aiming for a sultry cat eye, spellbinding special effects, or a bold pigment explosion, we've got you covered.
Our easy Halloween makeup ideas and how-to hacks will have you ready to rock the spookiest night of the year effortlessly. Experiment with glitter eye shadows for an extra touch of glamor, or opt for matte and shimmer shades to create striking contrasts. Read on for 50 of the best inspirational photos and hacks to achieve the best Halloween eye makeup looks ever.
1. Smoky-Eyed Seductive Bunny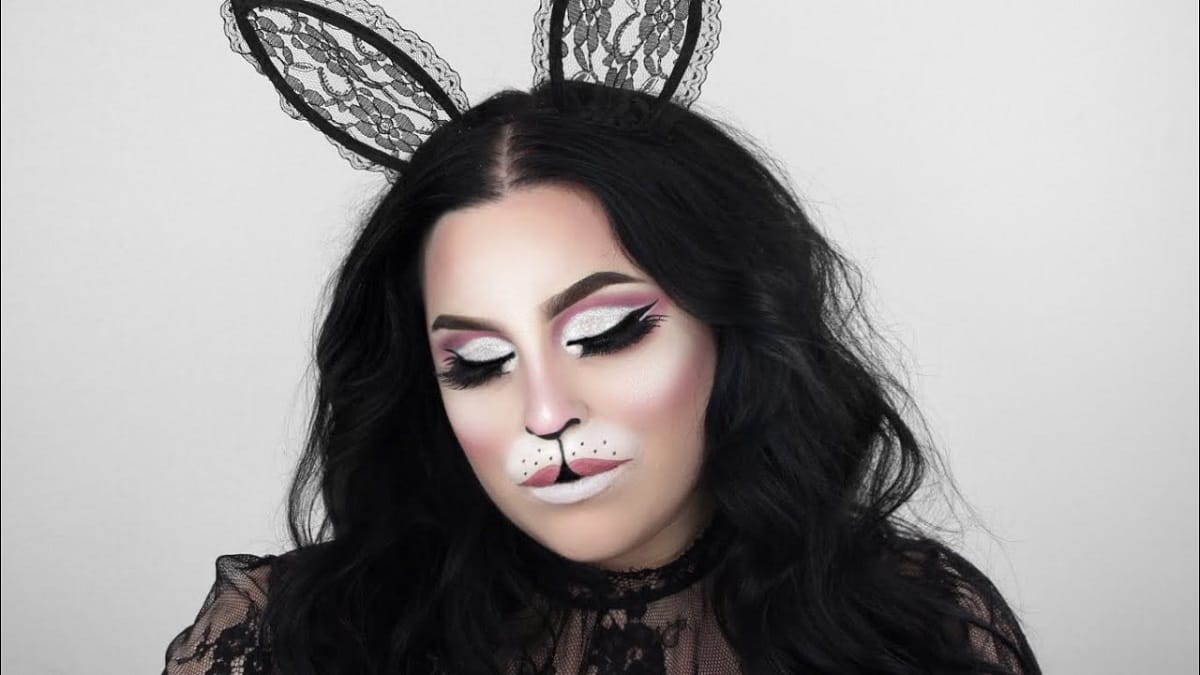 Halloween Eye Makeup Ideas, If you're in search of subtle Halloween eye makeup ideas this season, direct your focus to this fool-proof dark smoky eye. Rest assured, you can achieve this look using products from your own makeup collection. Start by applying your deepest liquid black liner along your lash line to create a cat-eye effect.
Enhance the allure by using a kohl liner on your waterline. Complete the look by gently smudging the liner to your liking. For an added festive touch, consider complementing the style with a chic head accessory and a vibrant lip color.
2. Seeing Triple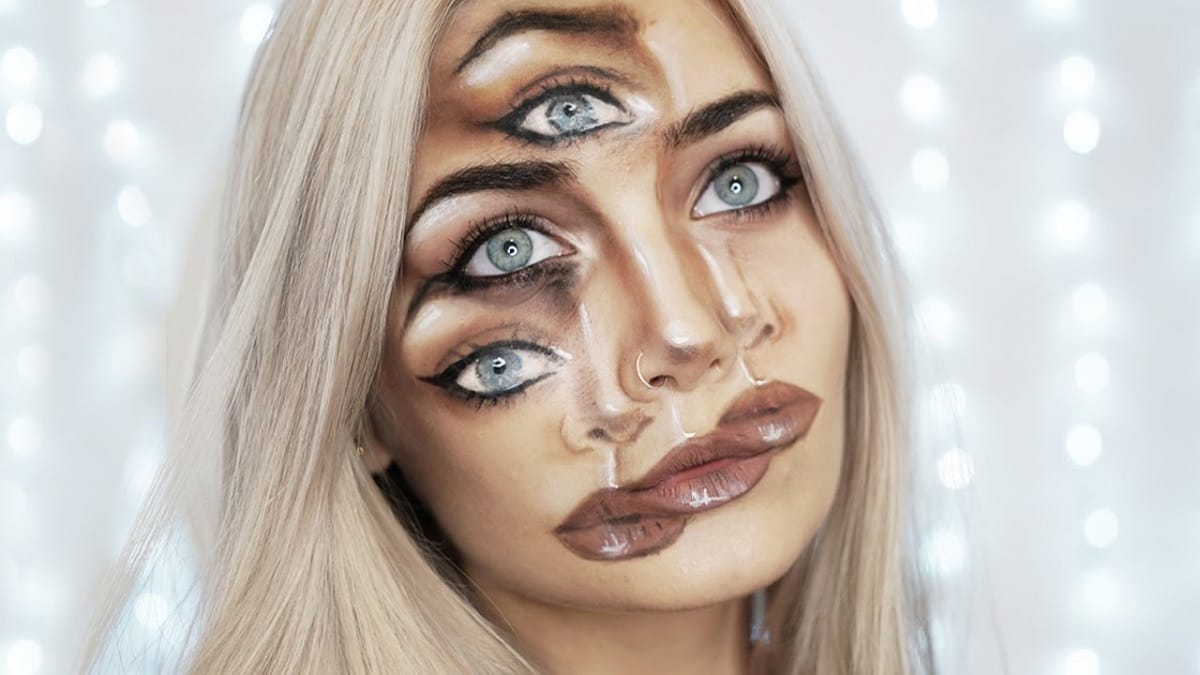 Halloween Eye Makeup Ideas, Elevate your Halloween eye makeup game with this creatively designed trippy eye look. Who needs a costume when you can master this attention-grabbing makeup look that strikes a balance between eerie and glamorous?
3. Butterfly Eyes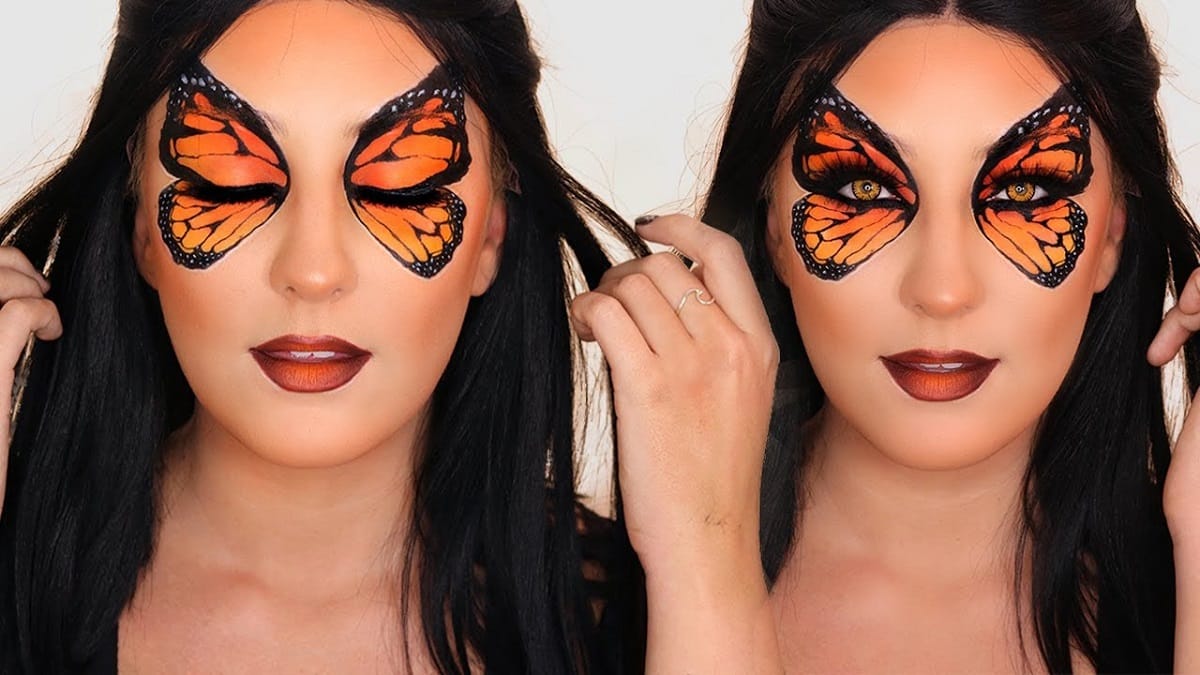 Halloween Eye Makeup Ideas, Immerse yourself in the beauty of this exquisite butterfly makeup rendition. While achieving this intricate look requires a steady hand, those ready to take on the challenge should focus on outlining butterfly wings at the inner corners of their eyes. To finalize the striking look, add a sultry, smoky touch to the outer eye.
4. Dainty Fairy Eyes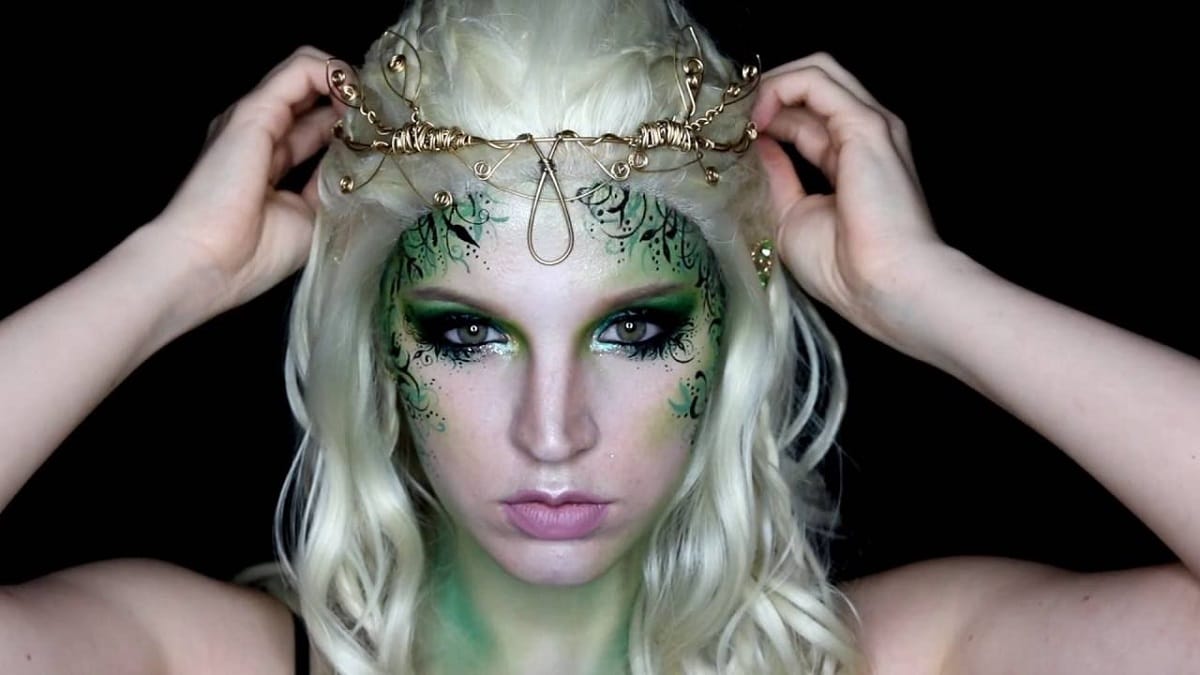 Halloween Eye Makeup Ideas, Radiating opulence, this look is a true gem! Begin by effortlessly applying a lustrous gold eye shadow across your eyelids, extending it towards the inner corners of your under-eyes. For a bewitching fairy-like appeal, stop at this stage. However, if you're aiming for a bolder and more striking appearance, go all out with your creativity by embellishing your eye shadow with an arrangement of pearls.
5. Over the Top Winged Liner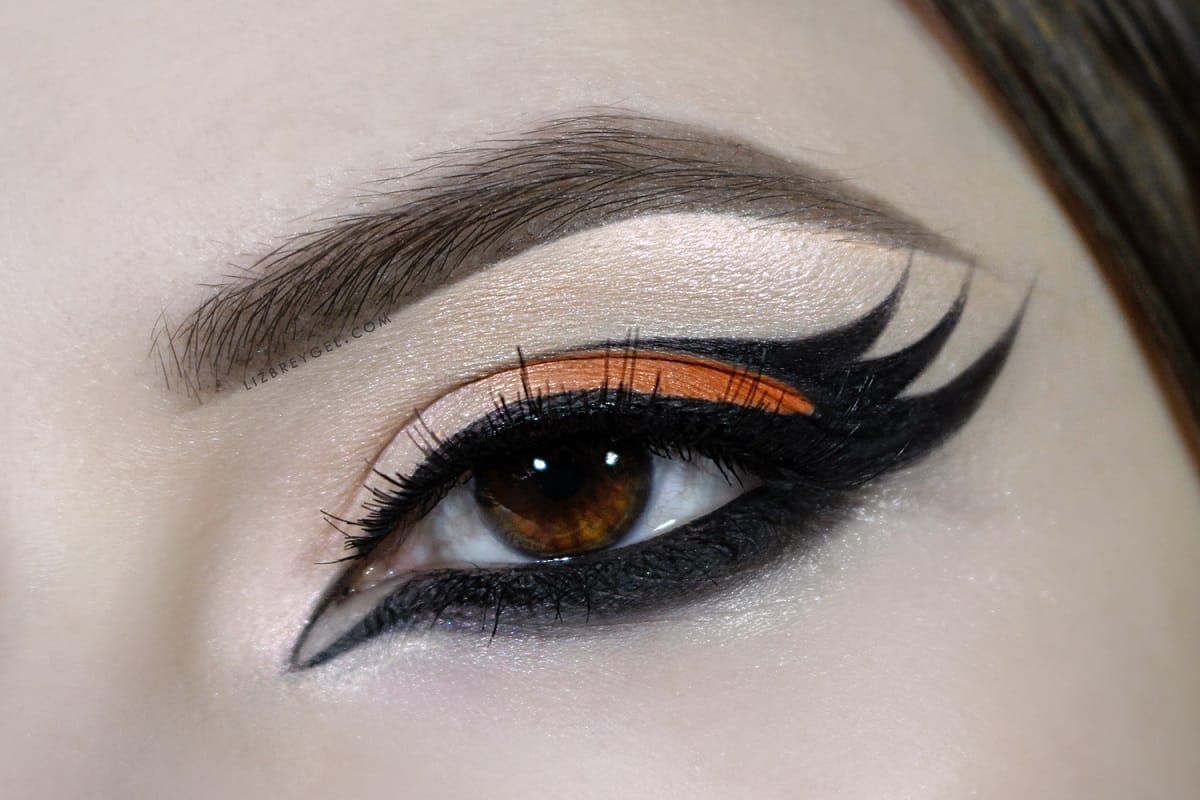 Halloween Eye Makeup Ideas, If your love for winged eyeliner knows no bounds, prepare to be swept away by this masterpiece, complete with rhinestones.
6. Owl Eyes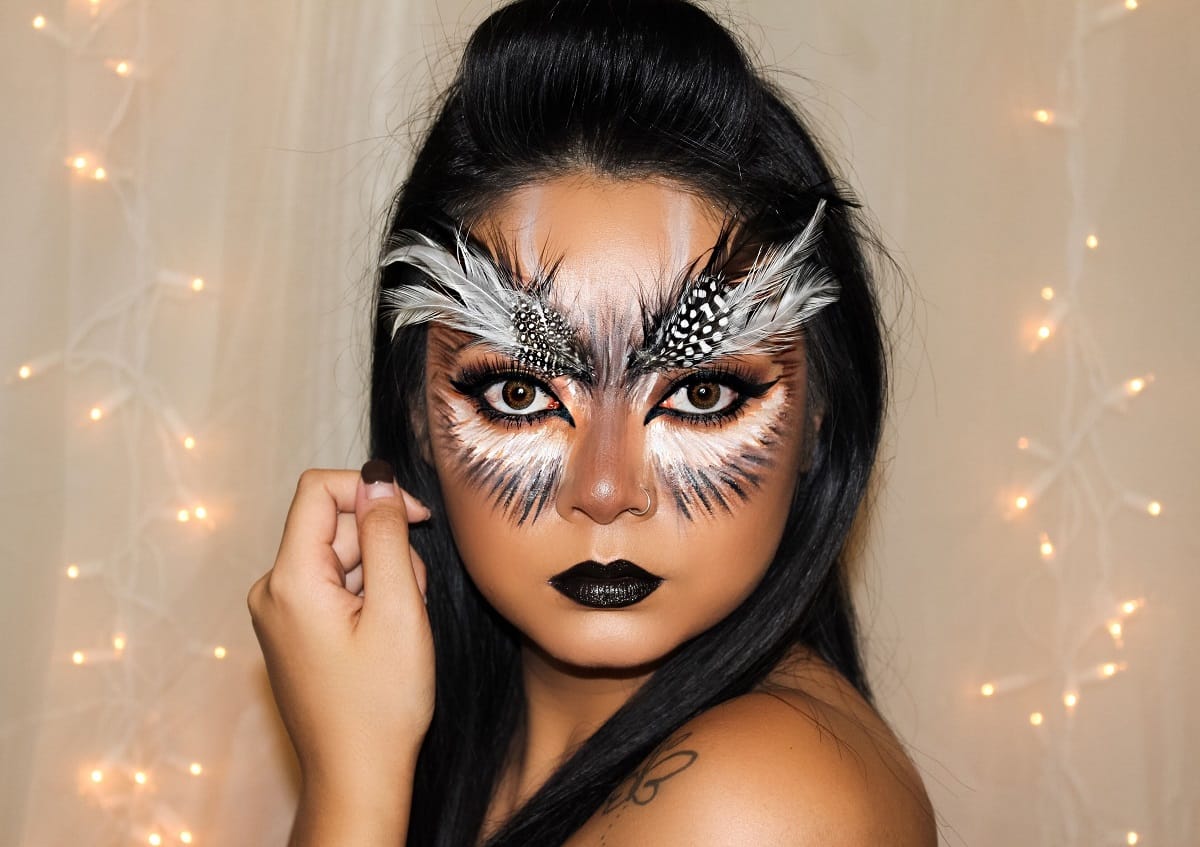 Halloween Eye Makeup Ideas, We absolutely adore this mesmerizing eye look. Replicating the owl-inspired accent eye may require a substantial level of artistic skill. However, you can confidently enter this realm by using neutral-toned shadows, liquid eyeliners, and delicate wispy lashes to bring this captivating look to life in a masterful way.
7. Bold Siren Eyes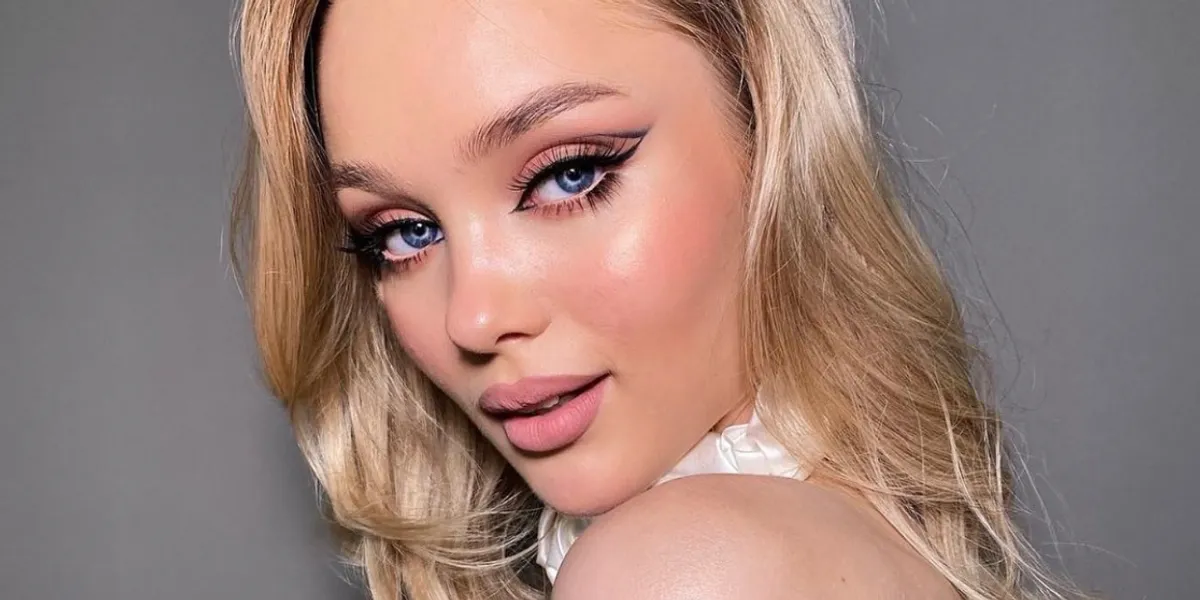 Halloween Eye Makeup Ideas, Take it up a notch by recreating this sizzling fiery red eye look, elevated with luxurious gold foils. This vibrant look is a breeze to recreate. Begin by generously applying red eye shadow to both your eyelids and under-eyes. Utilize a liquid eyeliner to craft a striking, precise winged liner. To heighten the allure, embellish your outer eye with gold foils, extending the decoration to the elevated areas of your cheeks for a fiercely stunning finish.
8. Clown Behavior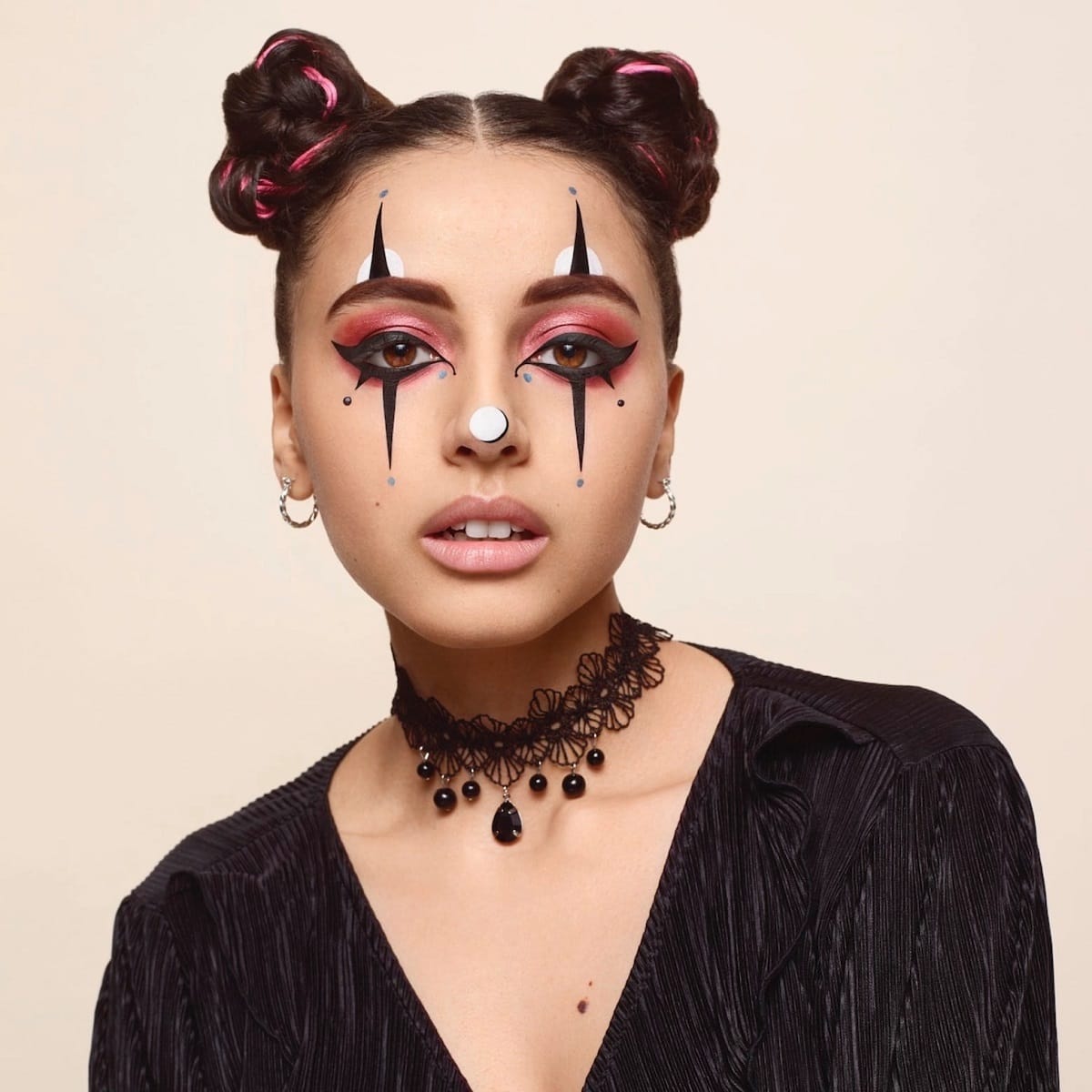 Halloween Eye Makeup Ideas, Elevate your smoky red eye makeup and make a grand entrance at the Halloween party with a clown-inspired twist. Utilize your liquid eyeliner to create a triangle shape on the upper part of your lid, extending it towards your brows. To complete the look, add a touch of drama by skillfully drawing clown tears, resulting in a distinctive and unforgettable appearance.
9. Spider-Chic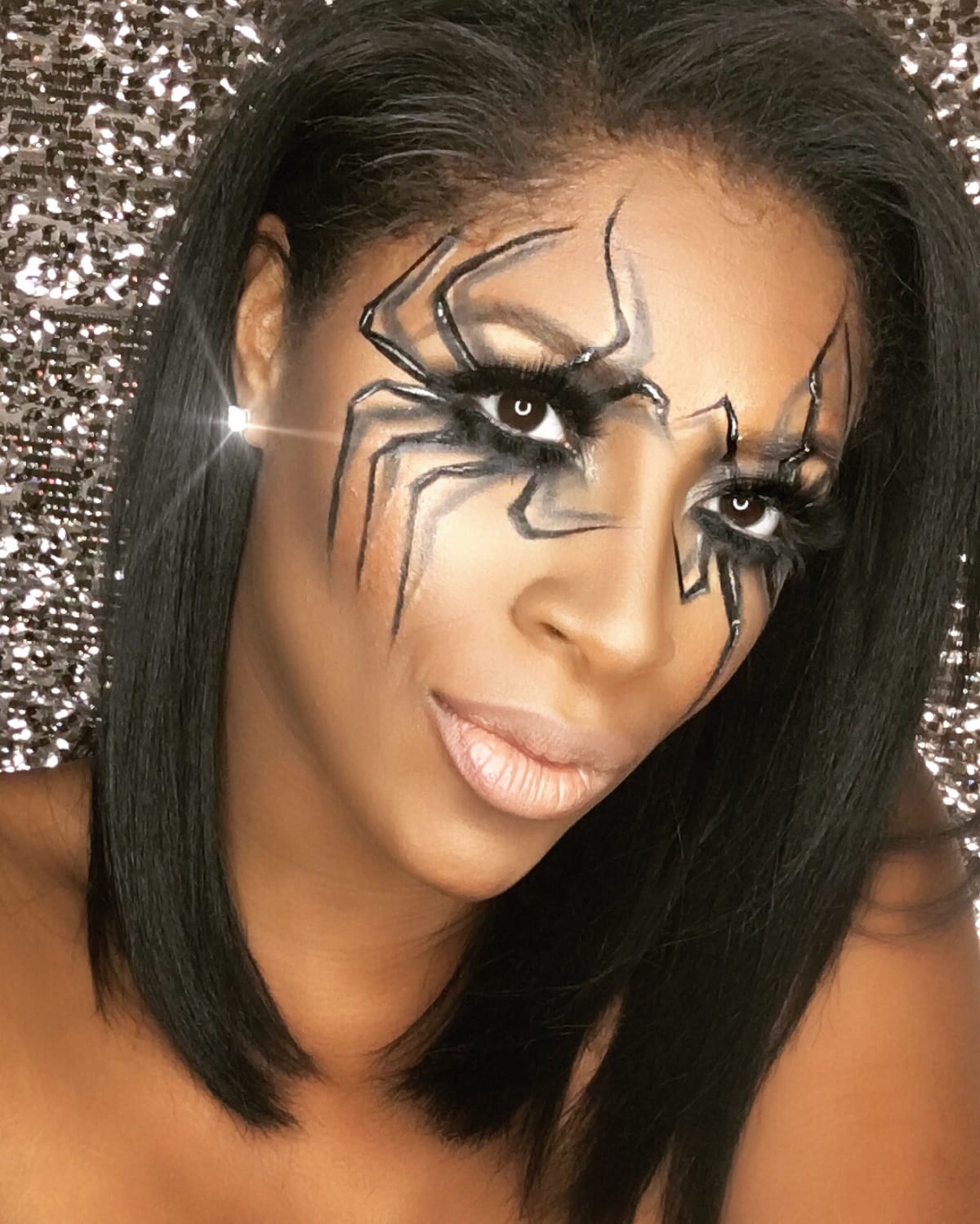 Here's a simple method to enhance your eyes while staying true to the seasonal theme. Achieve a timeless smoky eye look using a liquid liner and incorporate a spider web design beneath your eyes for a quick and stylish homage to Spider-Woman.
10. Hollow Forest Eyes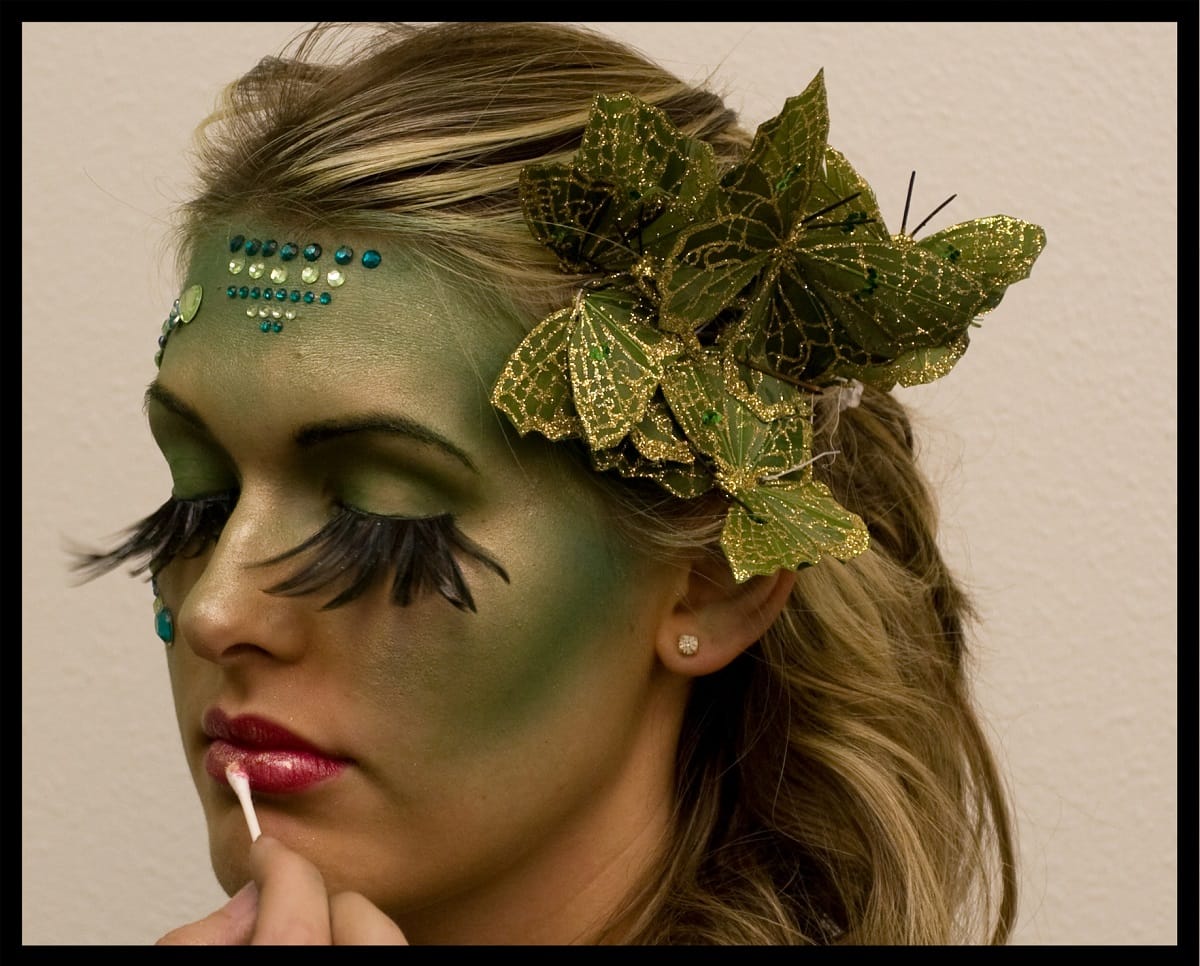 Halloween Eye Makeup Ideas, This eye look evokes the eerie allure of a hollow forest. A dramatic combination of black and delicate gold eye shadows creates depth and contrast. Apply the black eye shadow towards the outer corners, accentuating the eyes, while blending the gold eye shadow skillfully into the inner corners. Intensify the effect with jet-black eyeliner and voluminous lashes for a captivating finish.
11. Eerie Under Eyes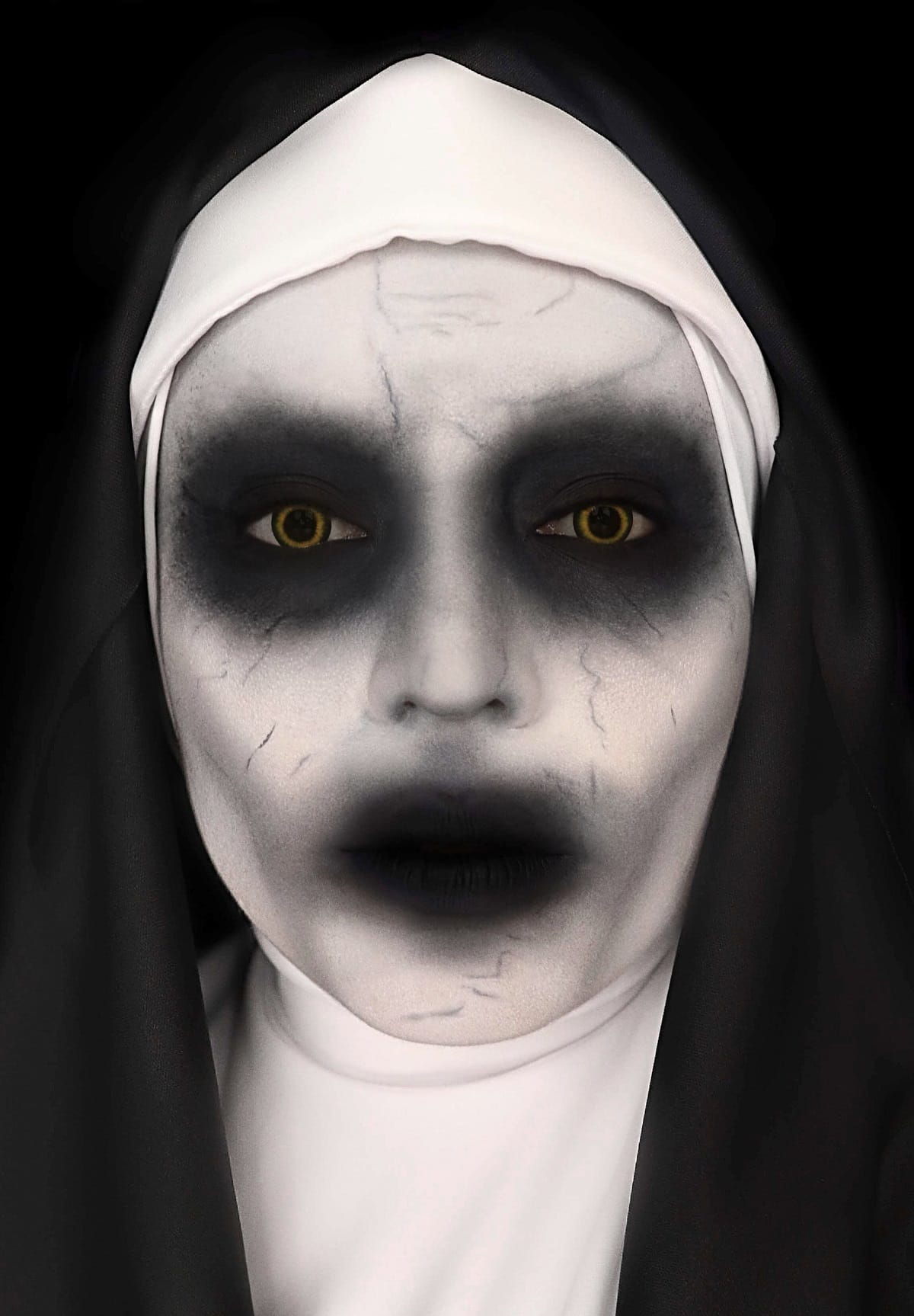 Halloween Eye Makeup Ideas, Reveal your spooky style with this chilling makeup look. Utilize a red liner to replicate the subtle yet eerie dripping blood eyeliner effect.
12. Bedazzled Spider Eyes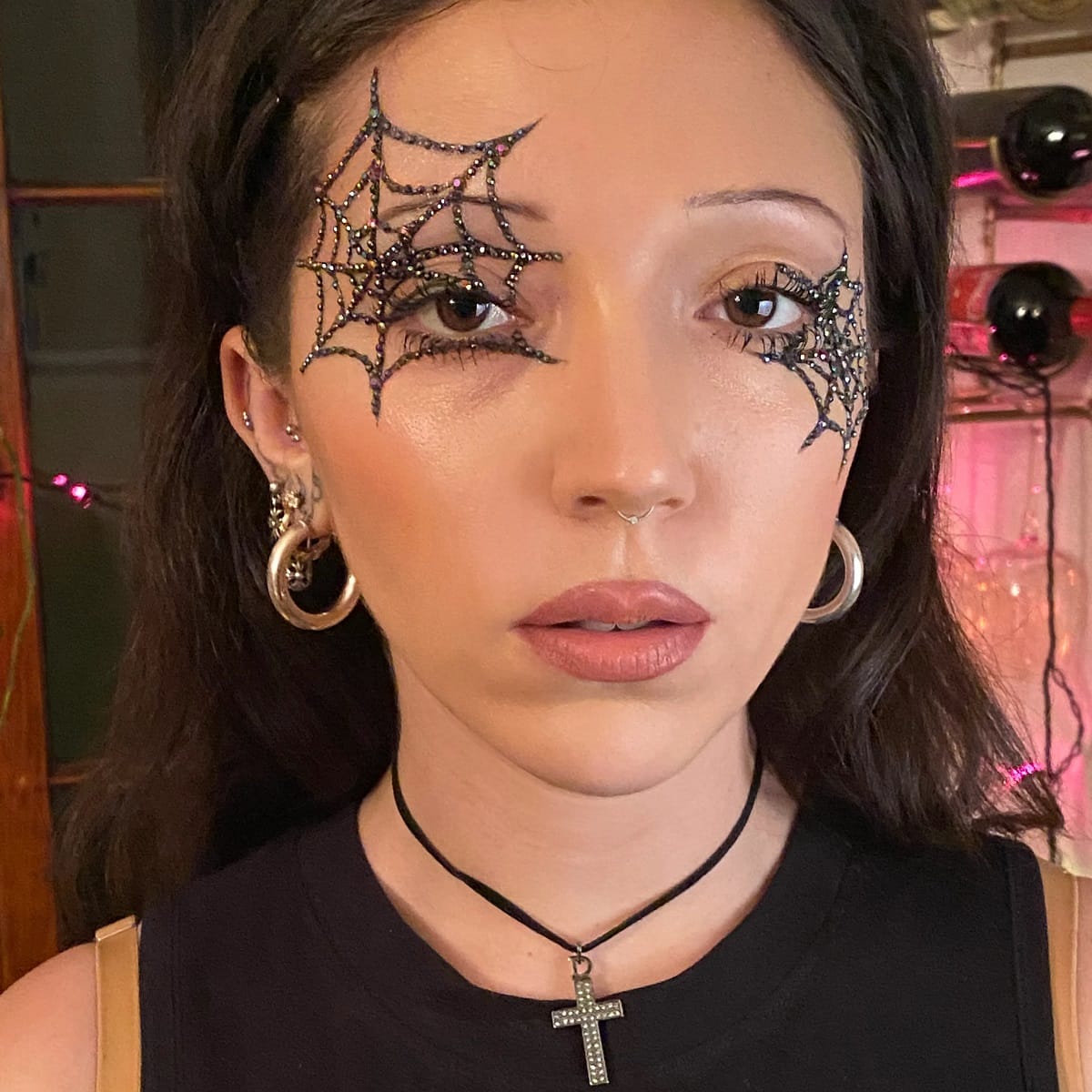 Halloween Eye Makeup Ideas, This is the perfect spooky slay for any Halloween soirée. Elevate your appearance with bedazzled spider eye makeup, embellished with rhinestones, and intensified with deep black eye shadows.
13. Pumpkin Liner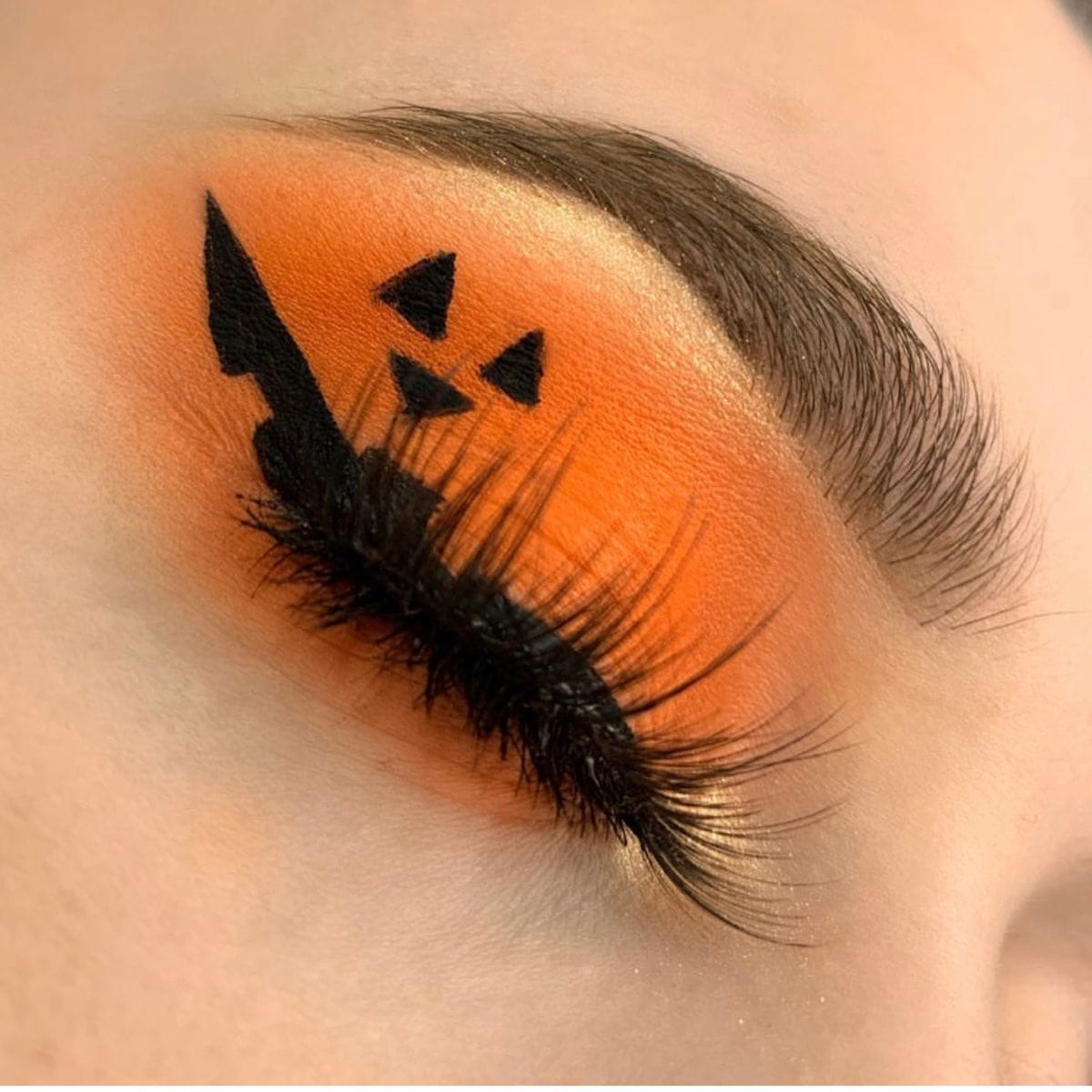 Halloween Eye Makeup Ideas, Ignite your festive spirit with a playful pumpkin twist on the classic winged eyeliner. Apply an array of orange shadows to your lid, complemented by a bold touch of glitter to truly enhance your look.
14. Creepy Cut Crease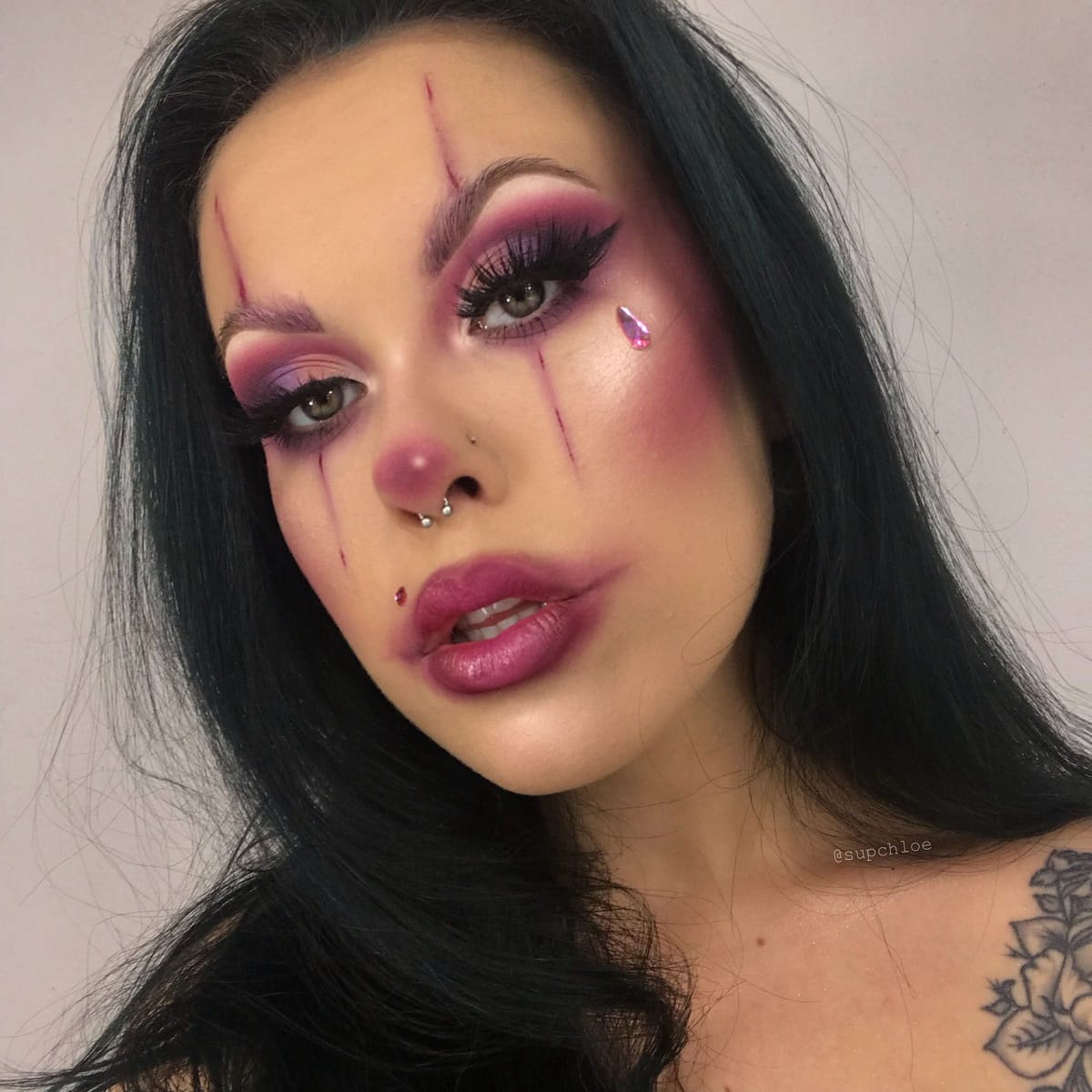 Halloween Eye Makeup Ideas, Leave a haunting impression with this spine-chilling look. Master the art of a bloody cut crease, incorporating a touch of special effects with your liquid red eyeliner for a jaw-dropping illusion.
15. Fierce Frankenstein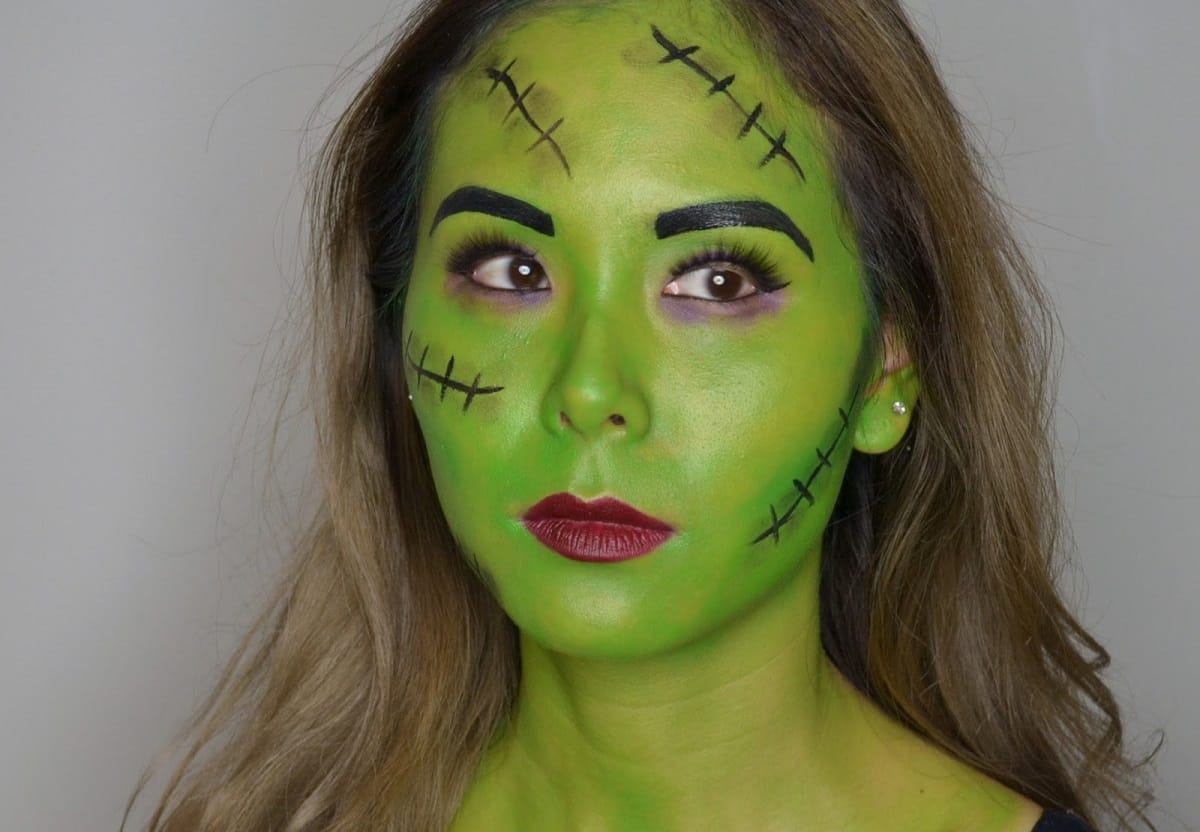 Halloween Eye Makeup Ideas, Channel the spirit of Frankenstein with this eye makeup look. Coat your lids in electrifying green eye shadows and draw eye piercings, paying homage to the iconic monster's hue and stitching.
16. Flower Child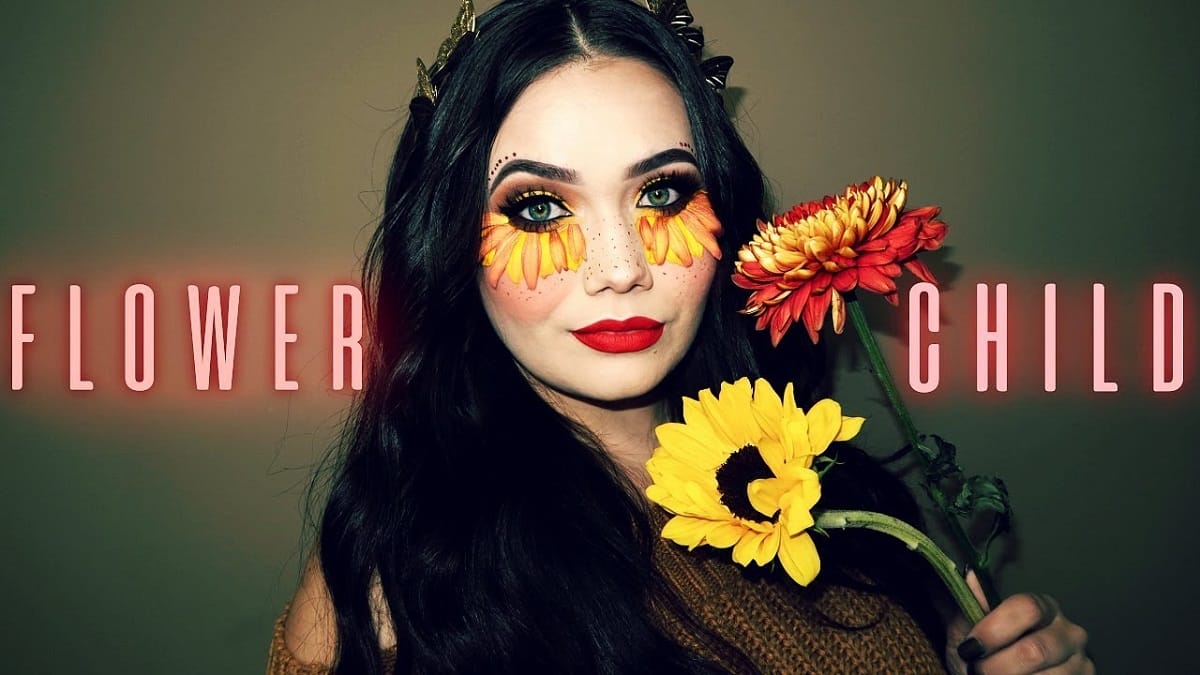 Halloween Eye Makeup Ideas, Embrace the cute and dainty route this season and transform your gaze into a blossoming garden. Adorn your eyelids with colorful daisies and shimmering shadows. Elevate the look with voluminous lashes for a beautiful finish.
17. Ethereal Eyes
Halloween Eye Makeup Ideas, Prepare to douse your eyes in loads of glitter with this mystical look. Embrace your inner goddess by embellishing your eyes with shimmery shadows, gems, and a dusting of iridescent highlighter.
18. Purple Haze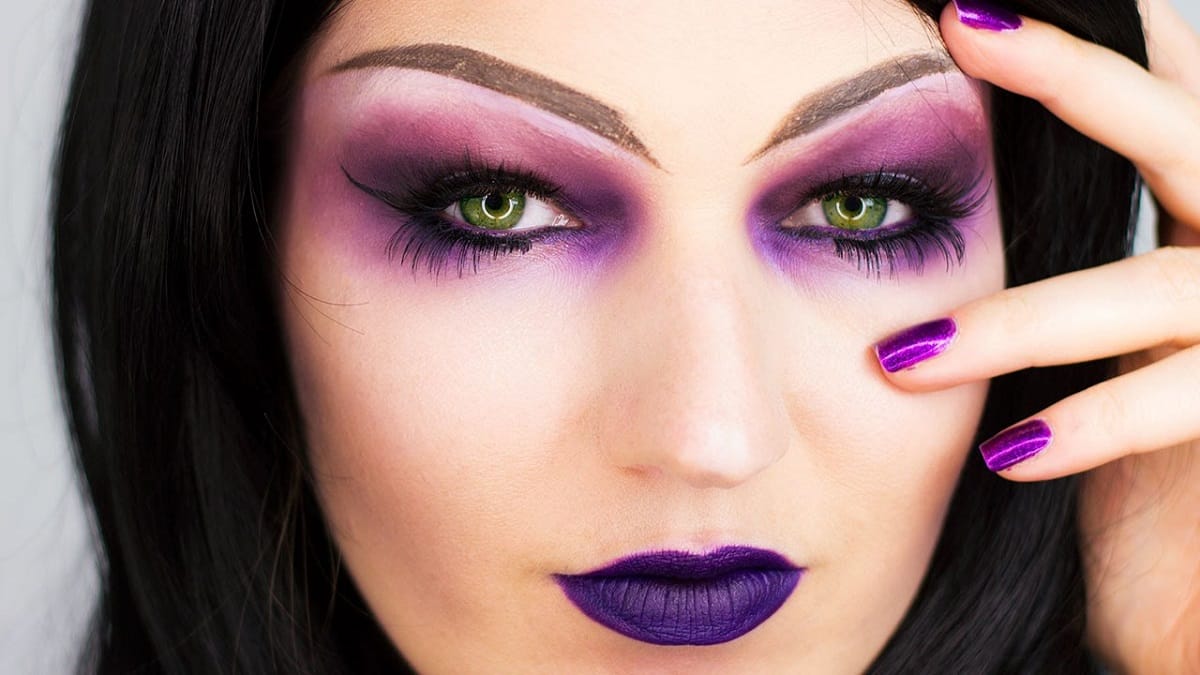 Halloween Eye Makeup Ideas, Infuse smoky plum and amethyst hues with the blackest-black liner for a captivating purple haze effect. Accentuate the outer corners with glimmering gems, adding a head turning touch.
19. A Festive Winged-Liner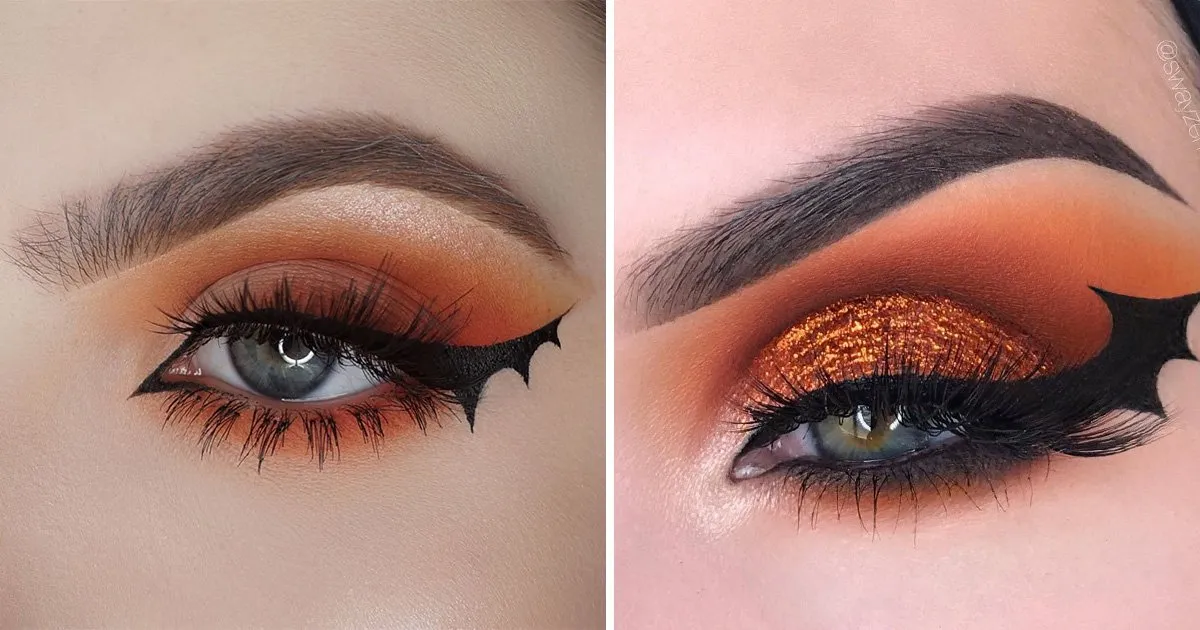 Halloween Eye Makeup Ideas, Make a wickedly stylish statement with this devilishly chic eye look. It's a subtly alluring way to embrace the holiday spirit, no costume required!
20. Bat-Winged Liner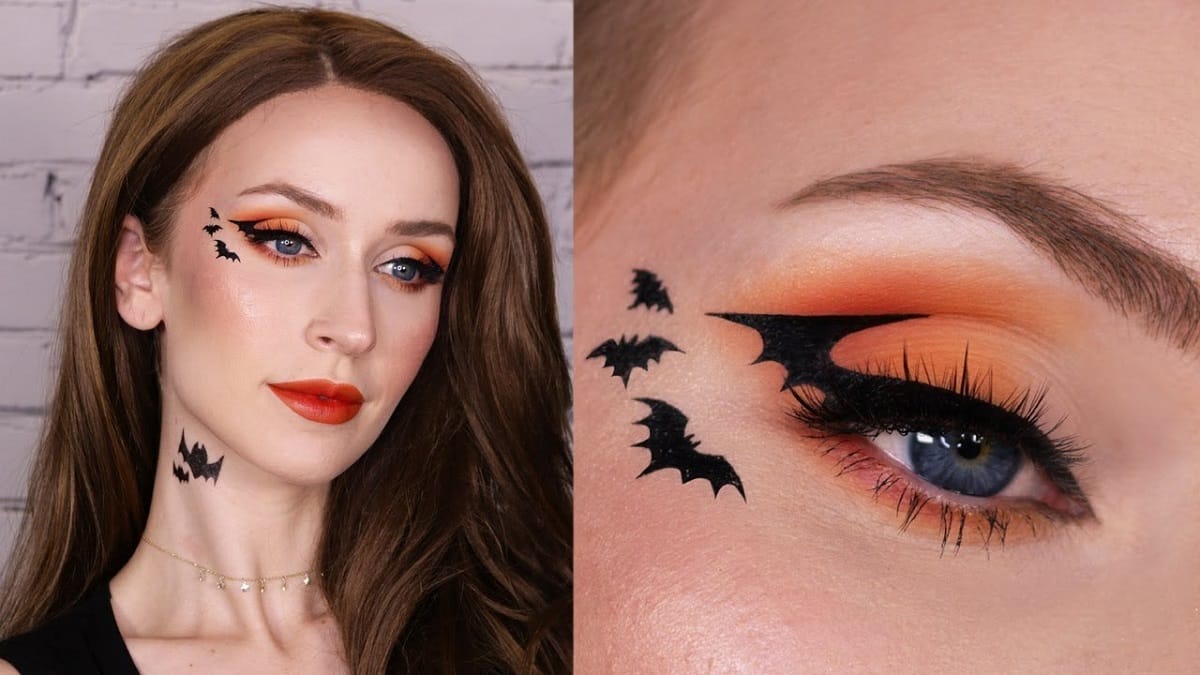 Halloween Eye Makeup Ideas, Unleash your inner nocturnal spirit with a twisted take on winged eyeliner – transform your wings into bewitching bat wings. Embrace the dark elegance of these winged creatures, crafting an eye-catching and hauntingly beautiful look perfect for a night of festivities.
21. Electric Green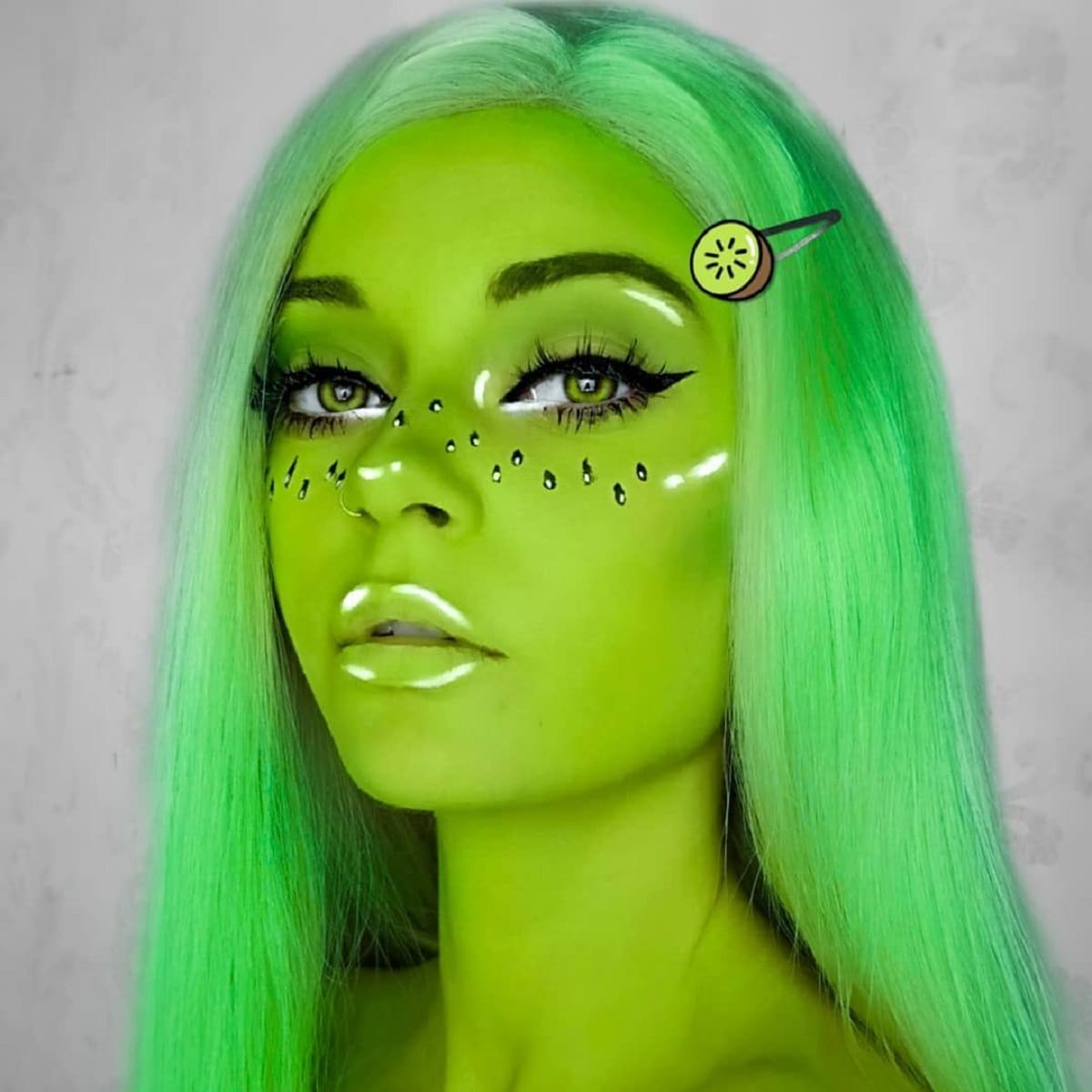 Halloween Eye Makeup Ideas, Here's another strikingly beautiful eye look that might require a bit of skill, but with precise eyeliner, we're confident you can recreate this electric masterpiece.
22. Spider Queen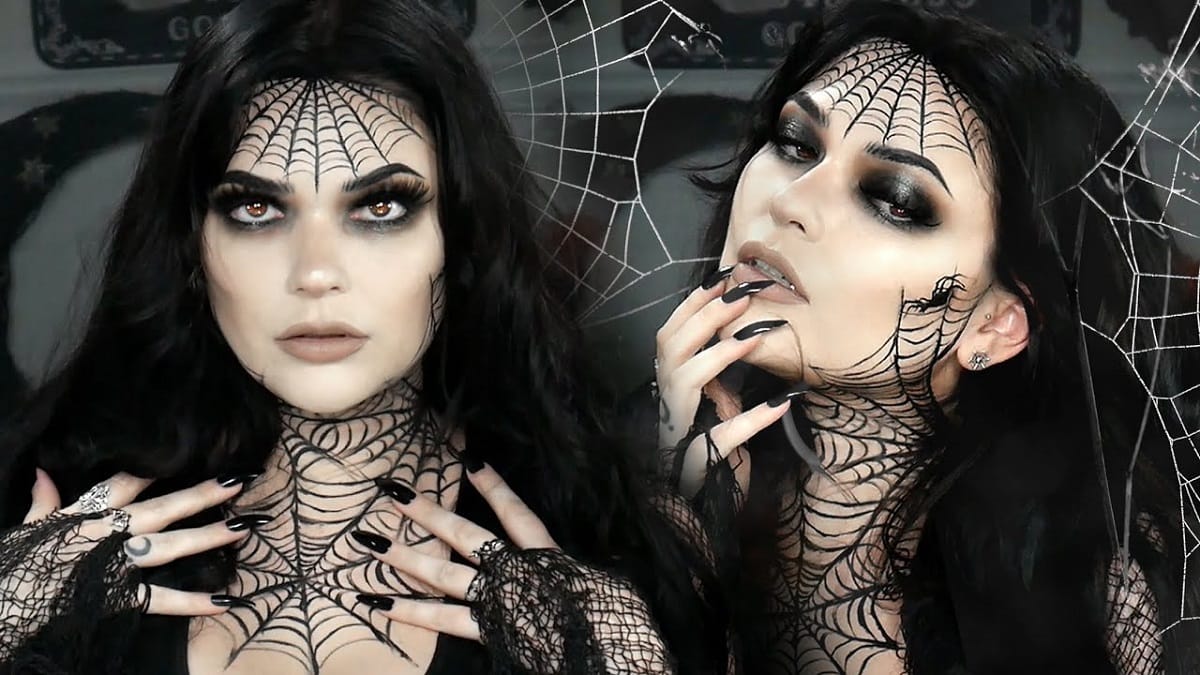 Halloween Eye Makeup Ideas, If you have a liquid eyeliner pen, you can do this look. Bonus points if you also have a white eyeliner color to add some dimension to your spider's legs. Create an all-over smoky eyeshadow look—heavy on the smoke. From there, draw legs extending out from your eye in all different directions. Shade it with the white eyeliner for a realistic effect.
23. Ghost Gourl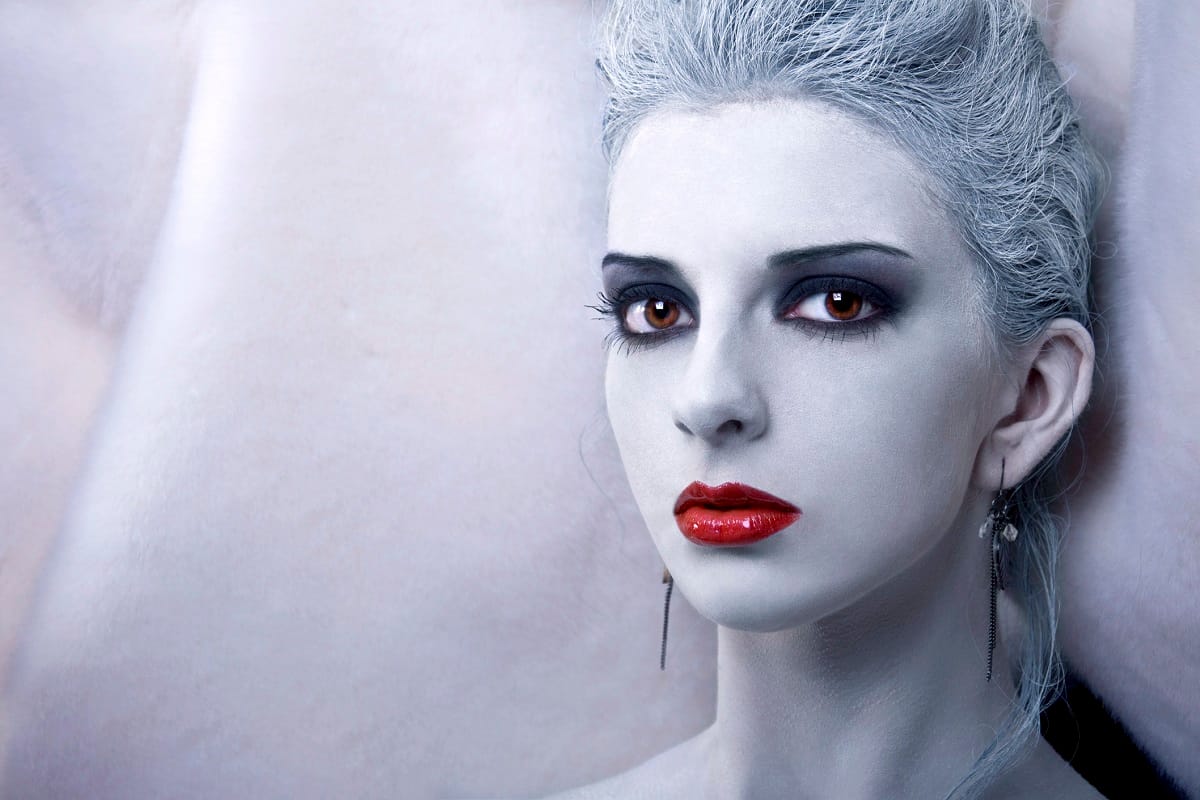 Halloween Eye Makeup Ideas, The major Halloween colors are green, black, and purple, so why not use all three to create this epic ghost-infused look? Try using this white eyeliner from ESSENCE MAKEUP to draw on the ghosts.
24. Straight Out of the Pumpkin Patch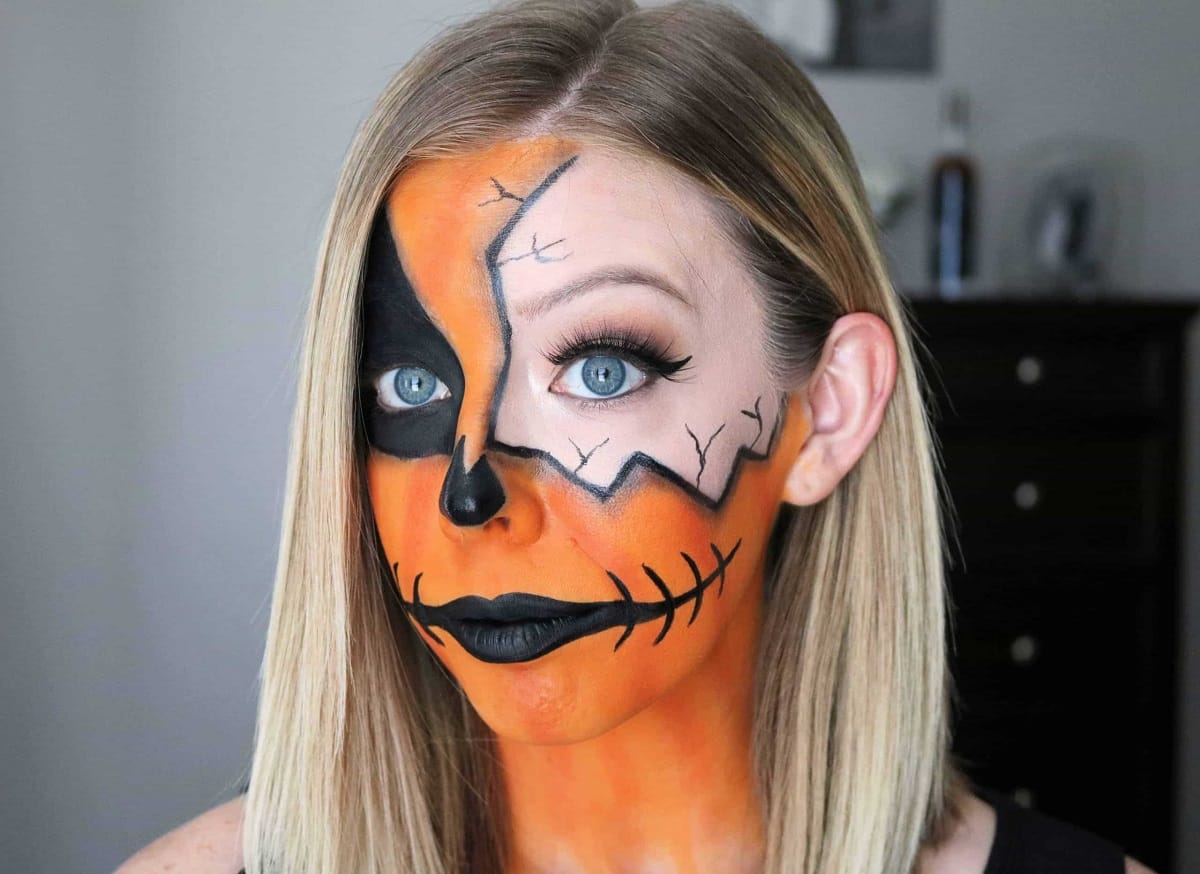 Halloween Eye Makeup Ideas, This easy Halloween look is for makeup newbies. Create an all-over orange shadow look on the lid and then draw on your winged eyeliner as you normally would. Then, using a Q-tip dunked in makeup remover, remove two chunks of the eyeliner to create your Jack O' Lantern teeth. Draw on a triangular pair of eyes and nose, and you're in the Halloween spirit without even really trying.
25. Spooky Trees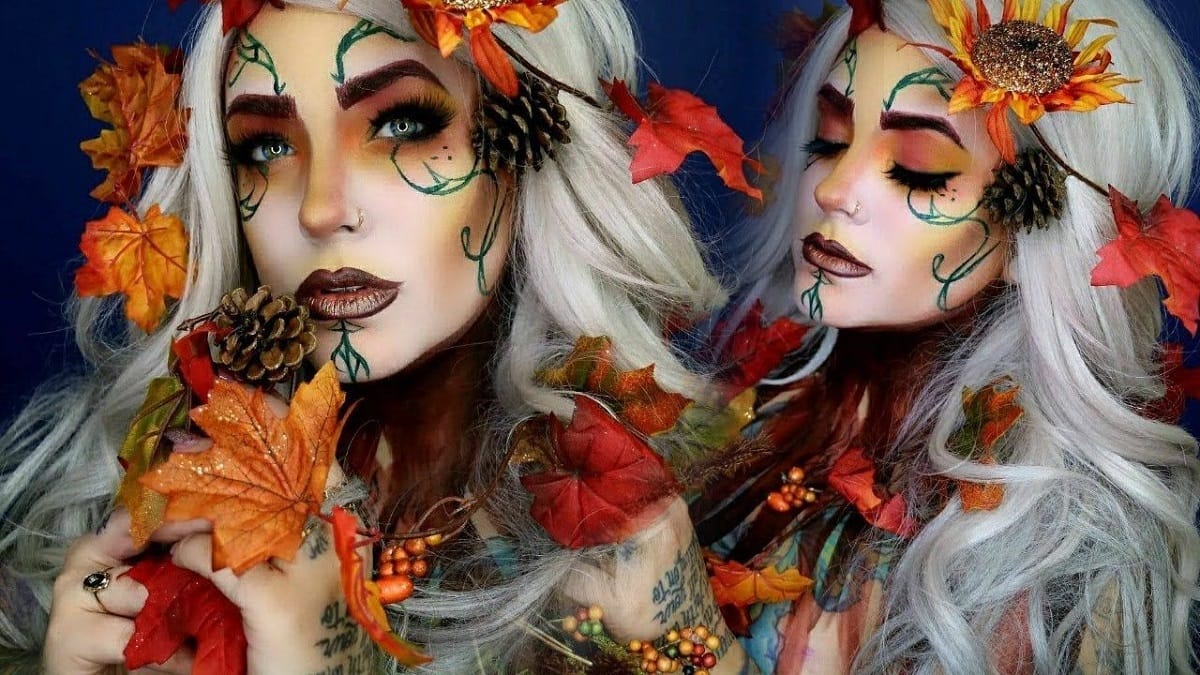 Halloween Eye Makeup Ideas, Are you getting the hint yet that you can pretty much create any Halloween eye look with an inky liquid liner? We love KOKIE PROFESSIONAL'S precise long wear liner to get the job done. Use your liner to create these extending spooky Halloween trees over your eyes for a haunting effect.
26. Wicked Green Apple Eyes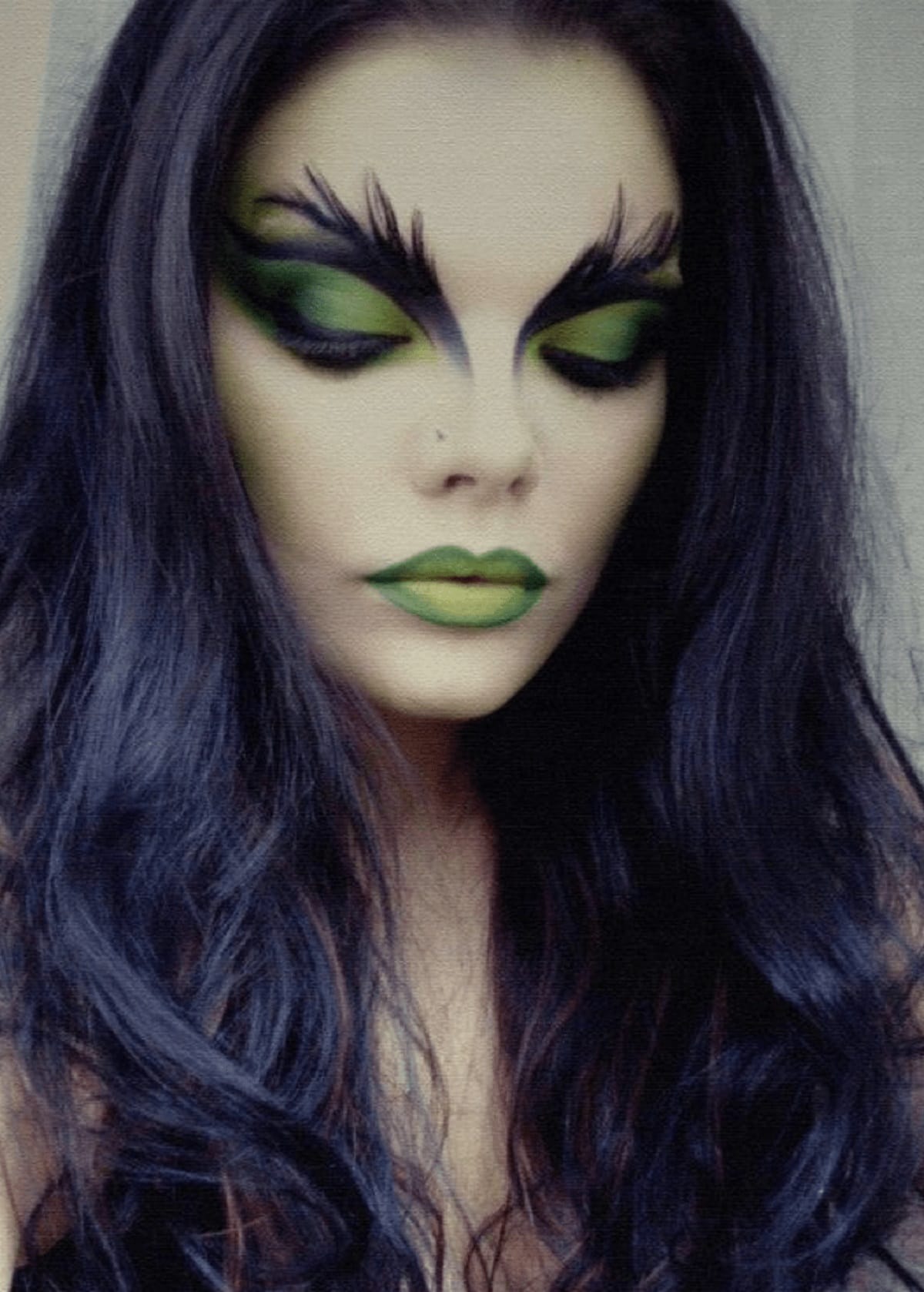 Halloween Eye Makeup Ideas, You're the apple of our eye! Just don't poison us, please. If you want to keep things simple but still be in the Halloween theme, create a poison apple-inspired eye look with just two colors.
27. Butterfly Effect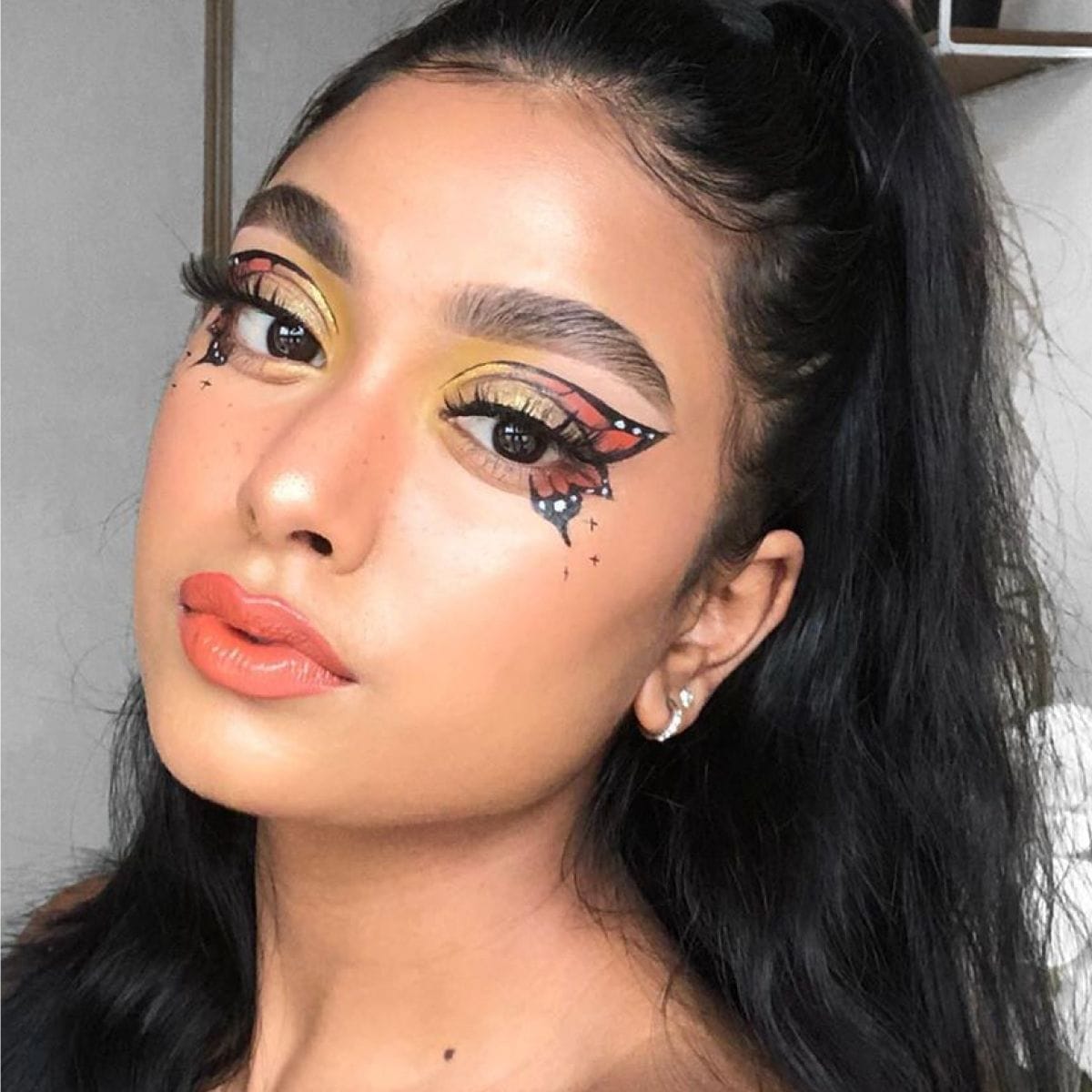 Halloween Eye Makeup Ideas, This might take more artistic talent, but if you're game, try turning your face into a butterfly and flutter your long lashes to keep up with the theme. We love MORPHE'S falsies for extra drama.
28. Tarot Witch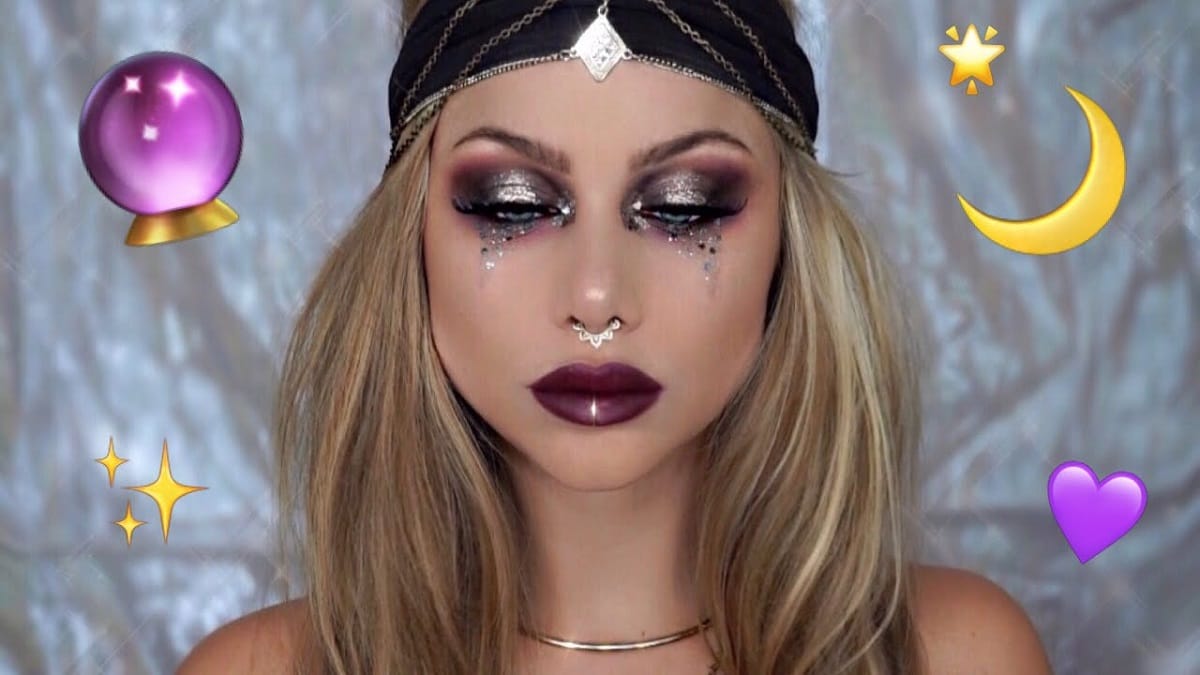 Halloween Eye Makeup Ideas, Show everyone you're a witch without spending hours on your makeup. Just create this mini moon sequence over your third eye with liquid eyeliner and set it with setting powder or spray so you can cast spells all night long.
29. Blood Drip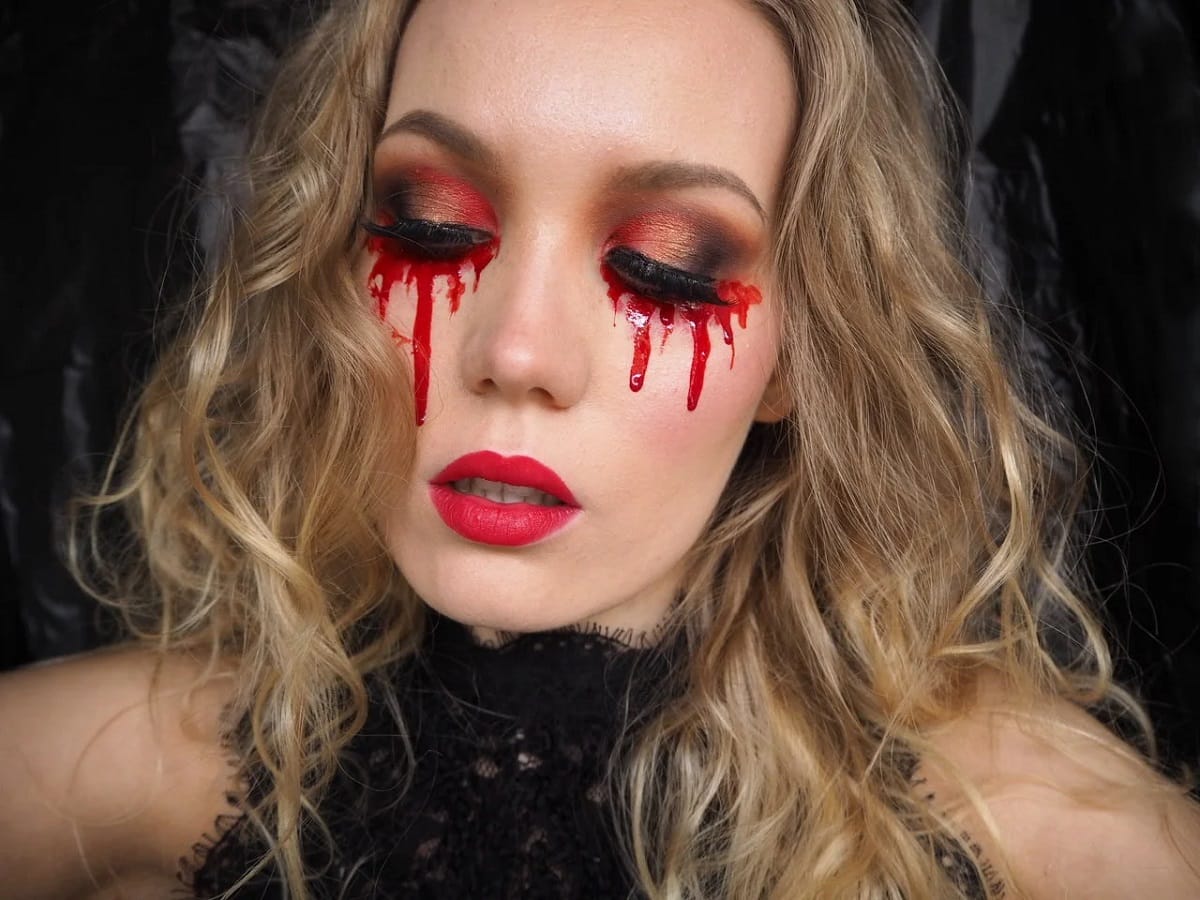 Halloween Eye Makeup Ideas, Grab a red liquid liner or even use a red lip liner and draw cascading blood "drips" underneath your eyes to make it look like you're crying the blood of your enemies.
30. Candy Corn Eyes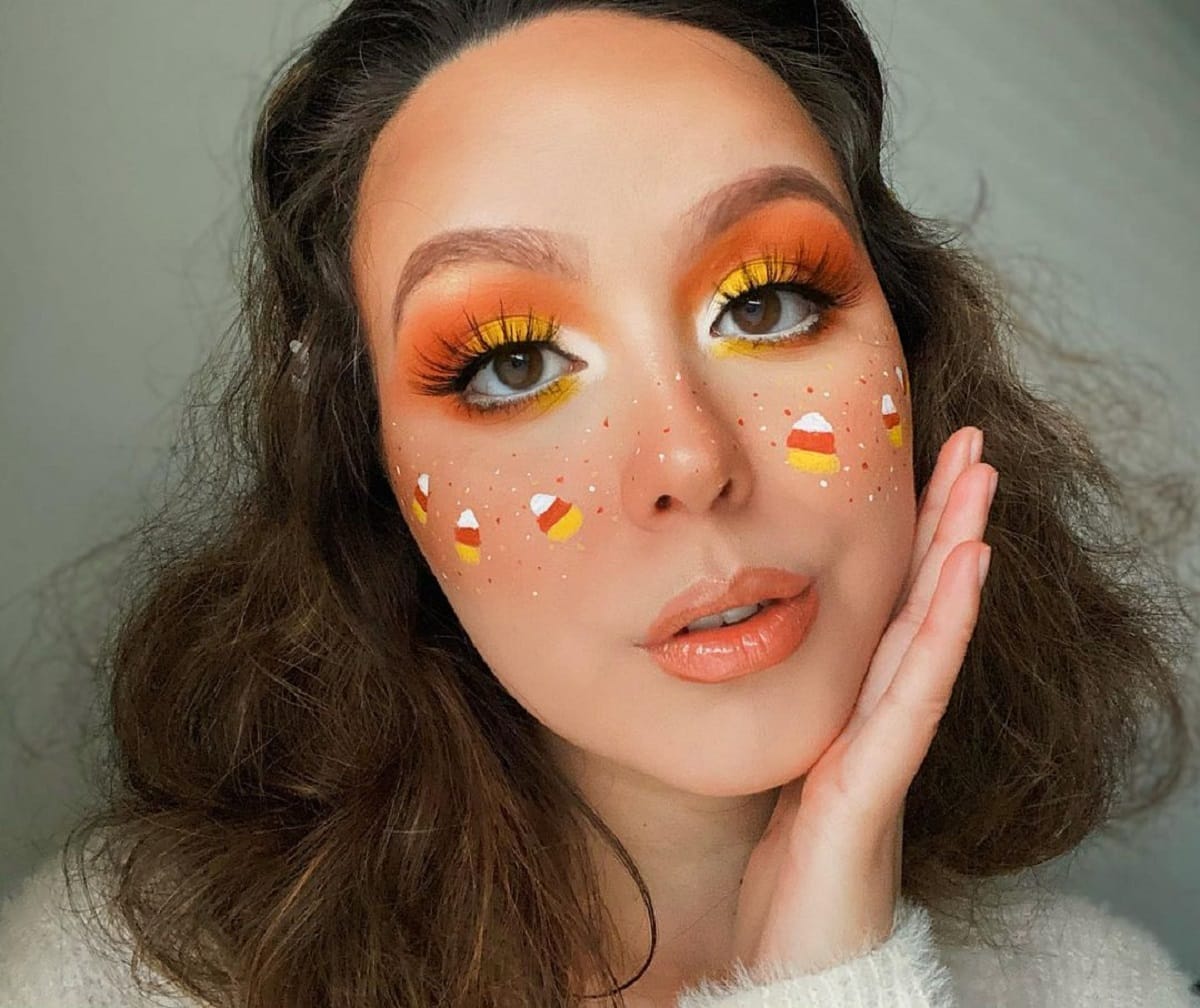 Halloween Eye Makeup Ideas, Candy corn is so well known, all you have to do is use yellow, orange, and white shadows and anyone will pretty much get the gist of what you were trying to accomplish. Dust on some glitter and your eyes will look good enough to eat.
31. Rag Doll Eyes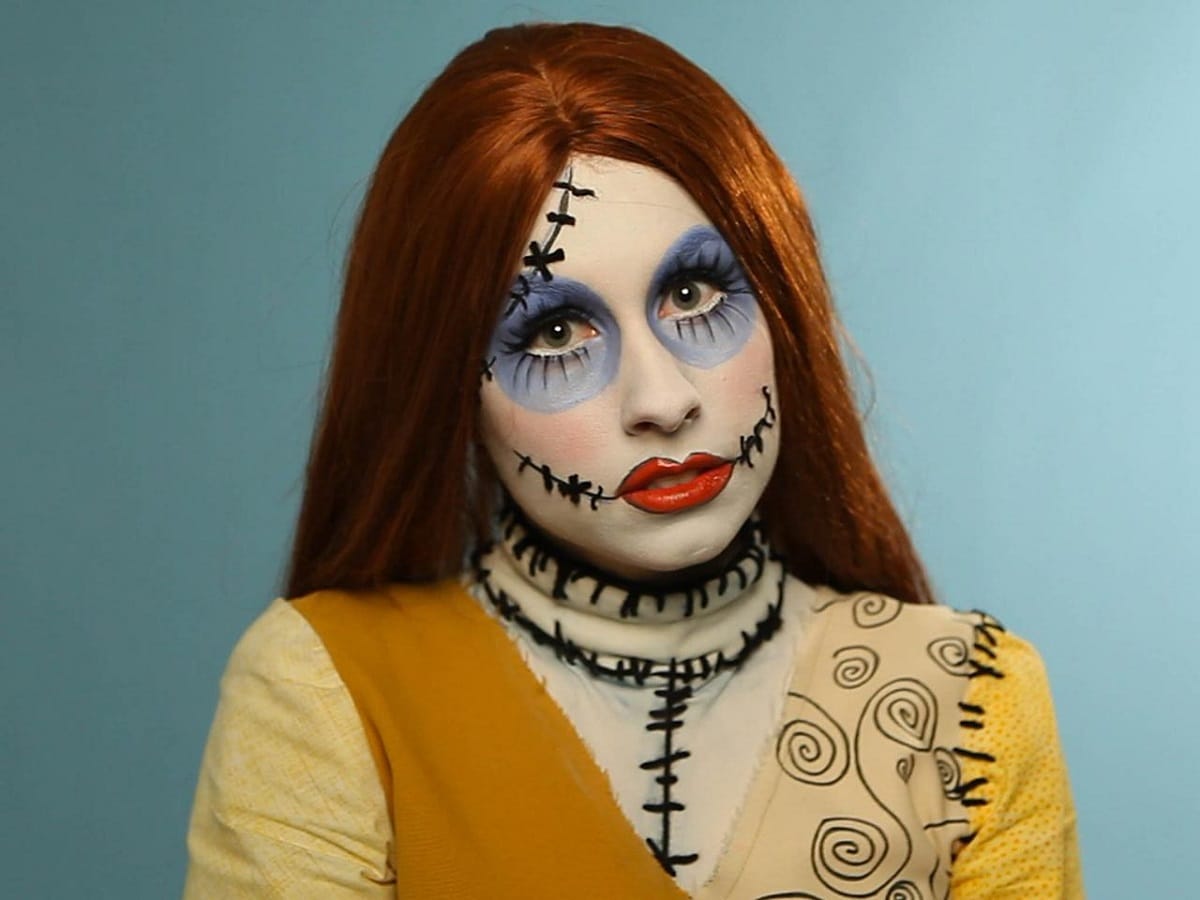 Halloween Eye Makeup Ideas, You don't have to do a full face of makeup to achieve this rag doll Halloween costume. Even just the eye makeup portion of this rag doll-inspired eye look will make a big impact.
32. Hit a Brick Wall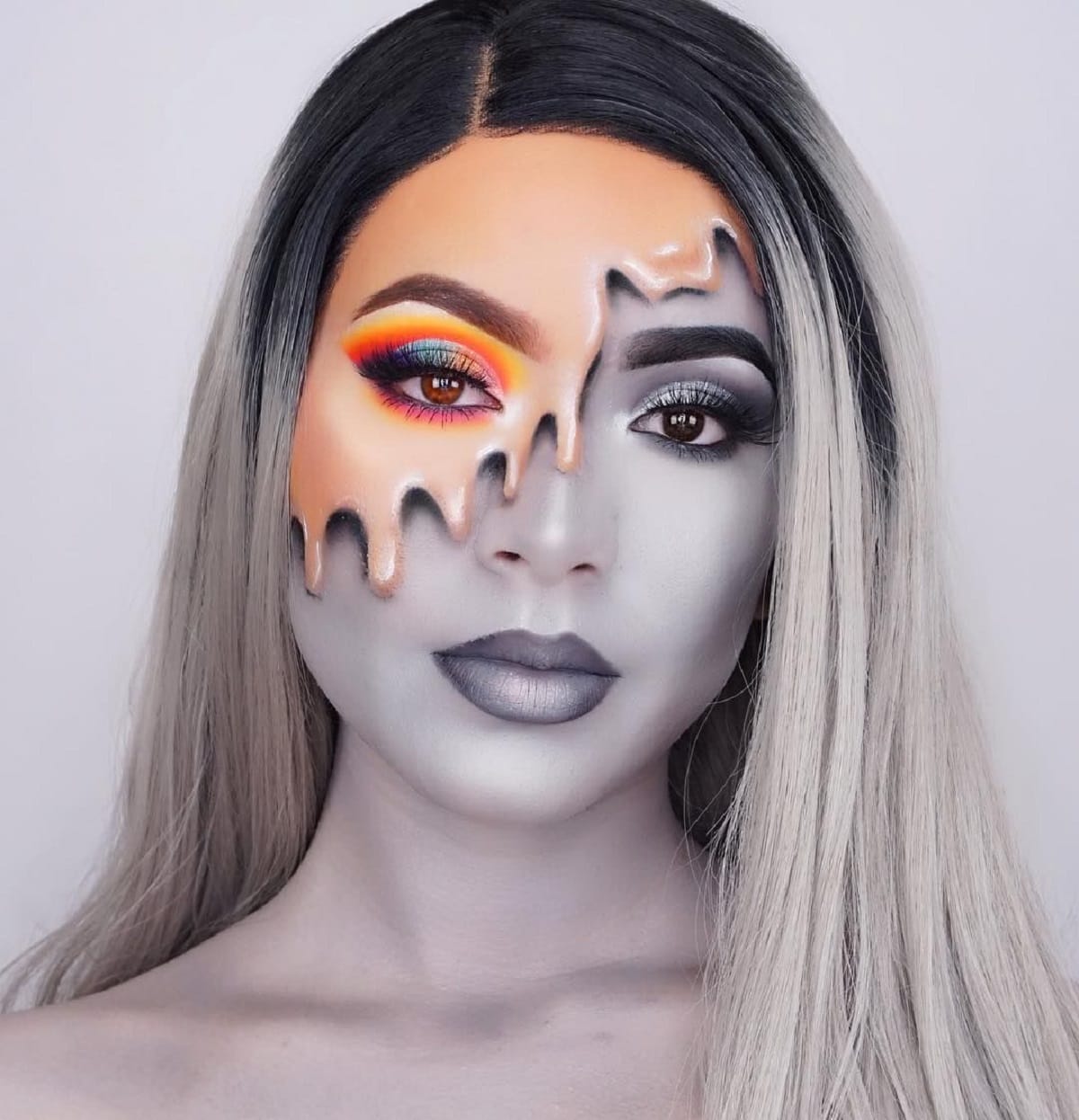 Halloween Eye Makeup Ideas, If you can draw lines, you can create this look. Have a friend write the words "boo" on your lids with liquid liner if it's too hard to do in the reversed mirror reflection.
33. Queen of Hearts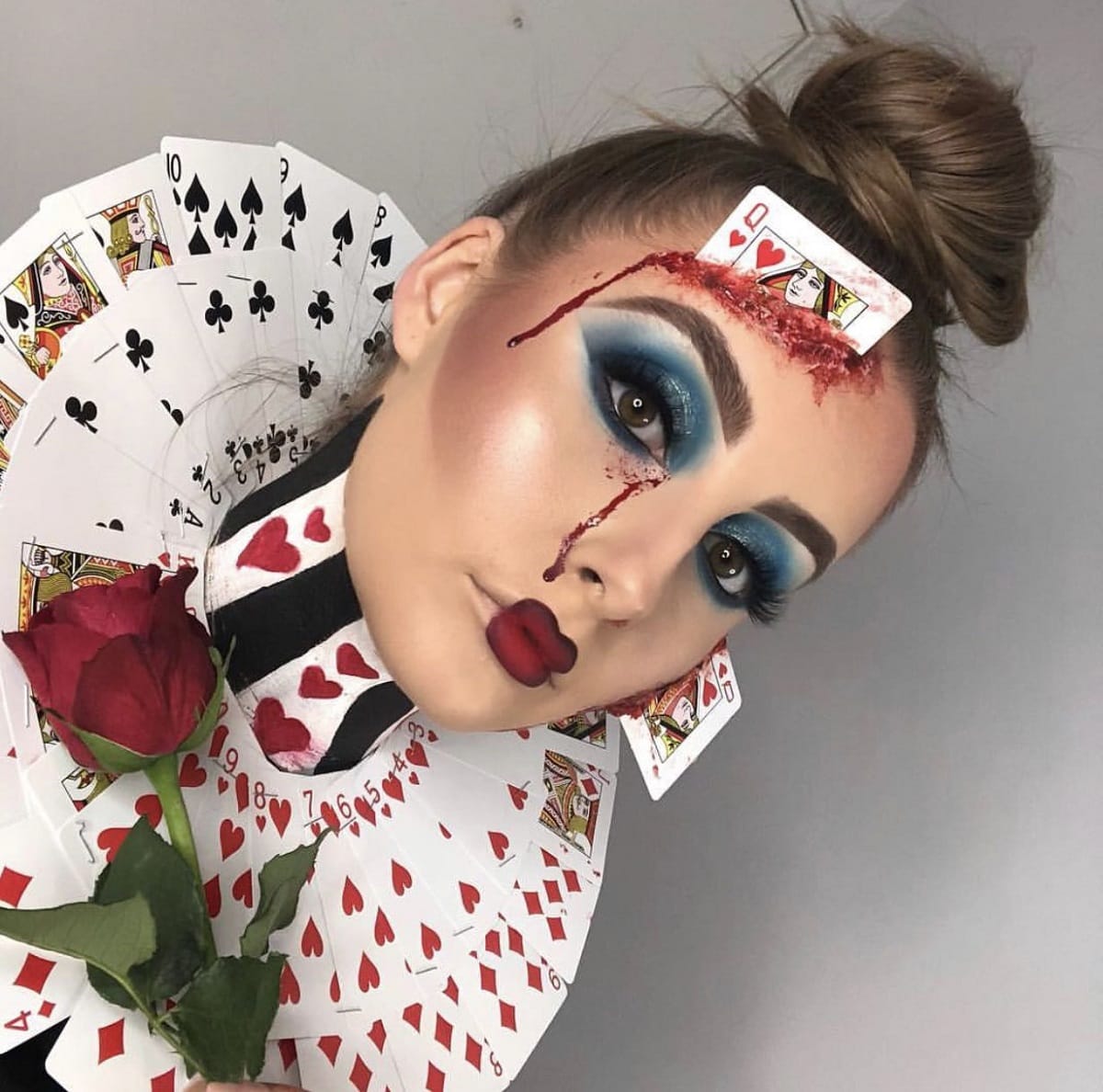 Halloween Eye Makeup Ideas, If nothing's scarier to you than betting it all on a poker game, channel Alice in Wonderland's queen of hearts character and draw a royal flush on your lids. Pair this makeup look with a black onesie or go full Queen in a crown and royal staff.
34. Cat Woman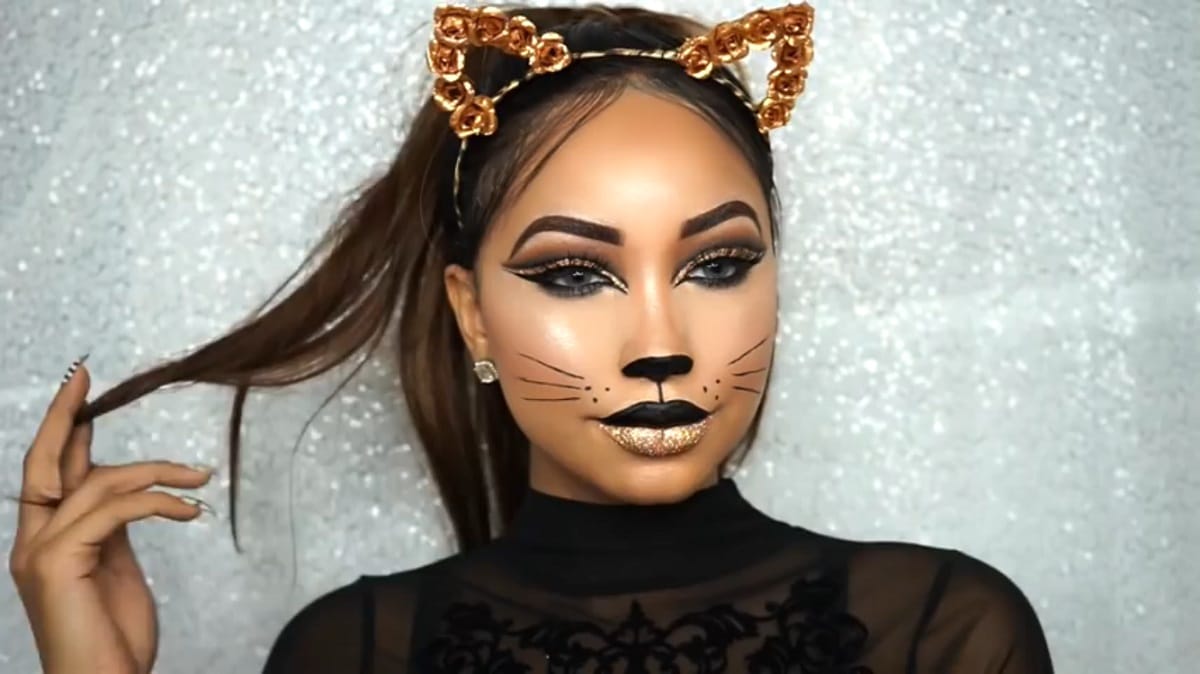 Halloween Eye Makeup Ideas, You don't need a mask for this look when you can draw on your own. Outline the shape of your mask with pencil eyeliner. For a smudge-proof look, use L.O.C.K. COLOR'S waterproof pencil eyeliner. Then fill in the mask with eyeliner or black eye shadow. Create a highlighting effect with white eye shadow or powder. Then draw on some stitches with white liquid liner or liquid face paint.
35. Violet Beauregarde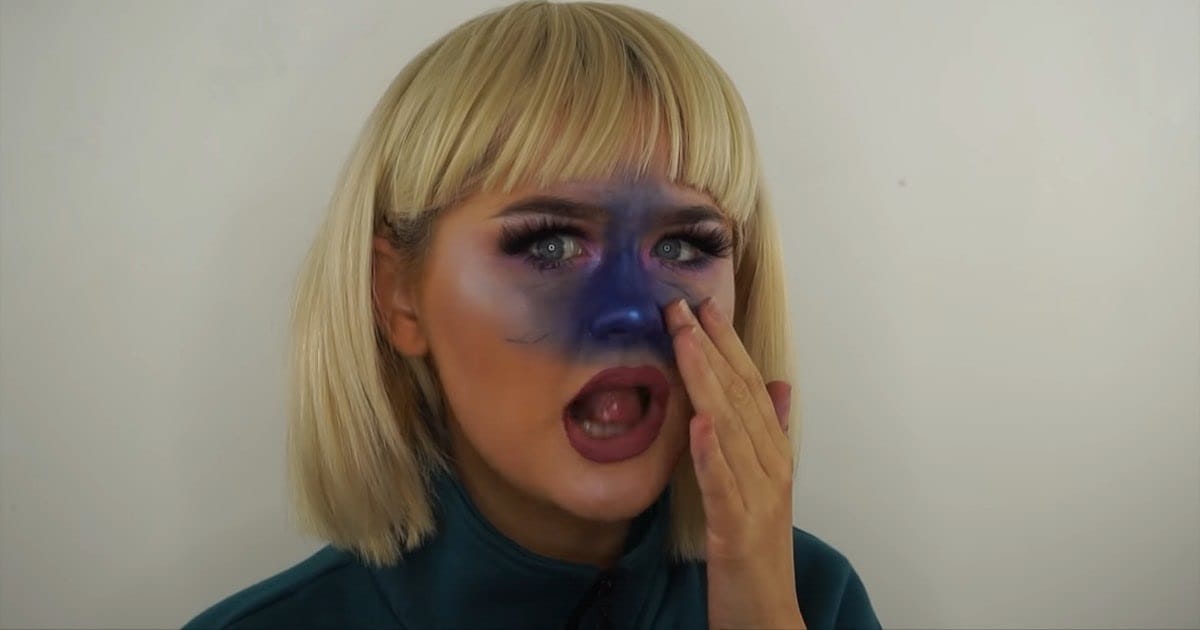 Halloween Eye Makeup Ideas, We love this visually amazing moment from the 2005 movie Charlie and the Chocolate Factory—that we've also included it in our roundup of favorite Halloween costumes! Ellie Addis really captured the spreading blueberry effect that started on Violet Beauregarde's nose in the film.
Also Read:
Halloween Nail Designs: The Best 20 Halloween Nail Designs+Photos
Fall Hair Care Routine: The 7 Exciting Tips For Hair Care This Fall
The Eyebrow Shapes For Different Faces+Photos
Fall Nails: The 13 Beautiful Fall Nails
Eye Shadow As Eyeliner: How To Use Eye Shadow As Eyeliner
Eye Make-Up: 5 Steps Eye Makeup For Blue Eyes
The Top 5 Trending Fall Eye Make-up Looks