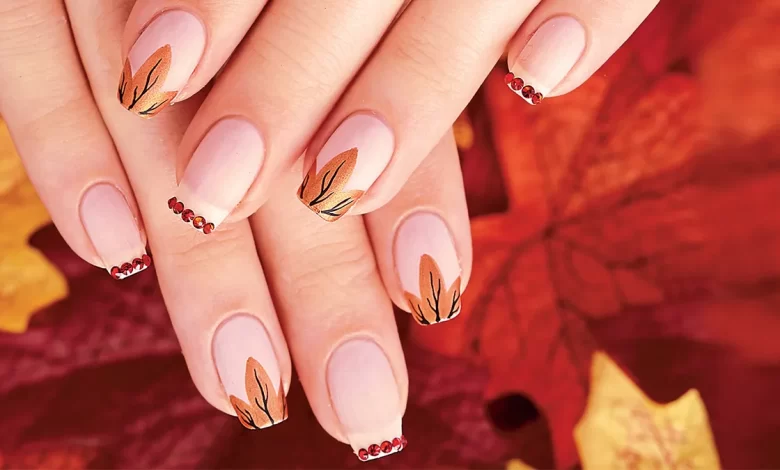 Fall Nails: To get a kickstart on the autumn nail trends, we asked our favorite nail artists to spill the deets on their top trend predictions for the nail art and nail shades we'll be wearing for the season ahead, whether you're more of a mani minimalist, or you want something super statement. So, if you want to swot up (and jump in) early, here's the autumn nail trends to have on your radar…
1. Latte nails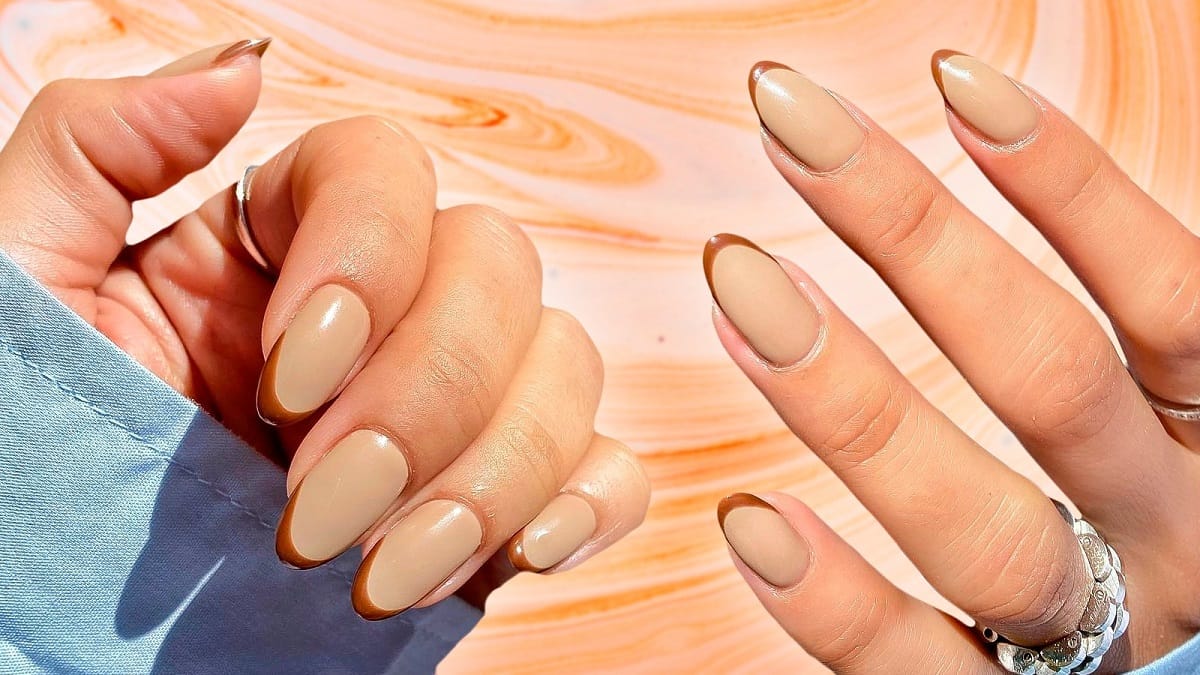 Fall Nails, Latte makeup has taken off big time on TikTok as the warm and pretty transitional beauty trend to take our complexions from sunkissed summer to cosy winter – and it will be infiltrating mani trends, too. "I think this autumn we will see a lot of rich brown shades. I can see lots of caramel, toffee, chocolate and cream shades trending," says luxury nail artist and educator, Jess White. "The warm and inviting tones exude a sense of cosiness and sophistication," she adds.
2. Autumn Frenchies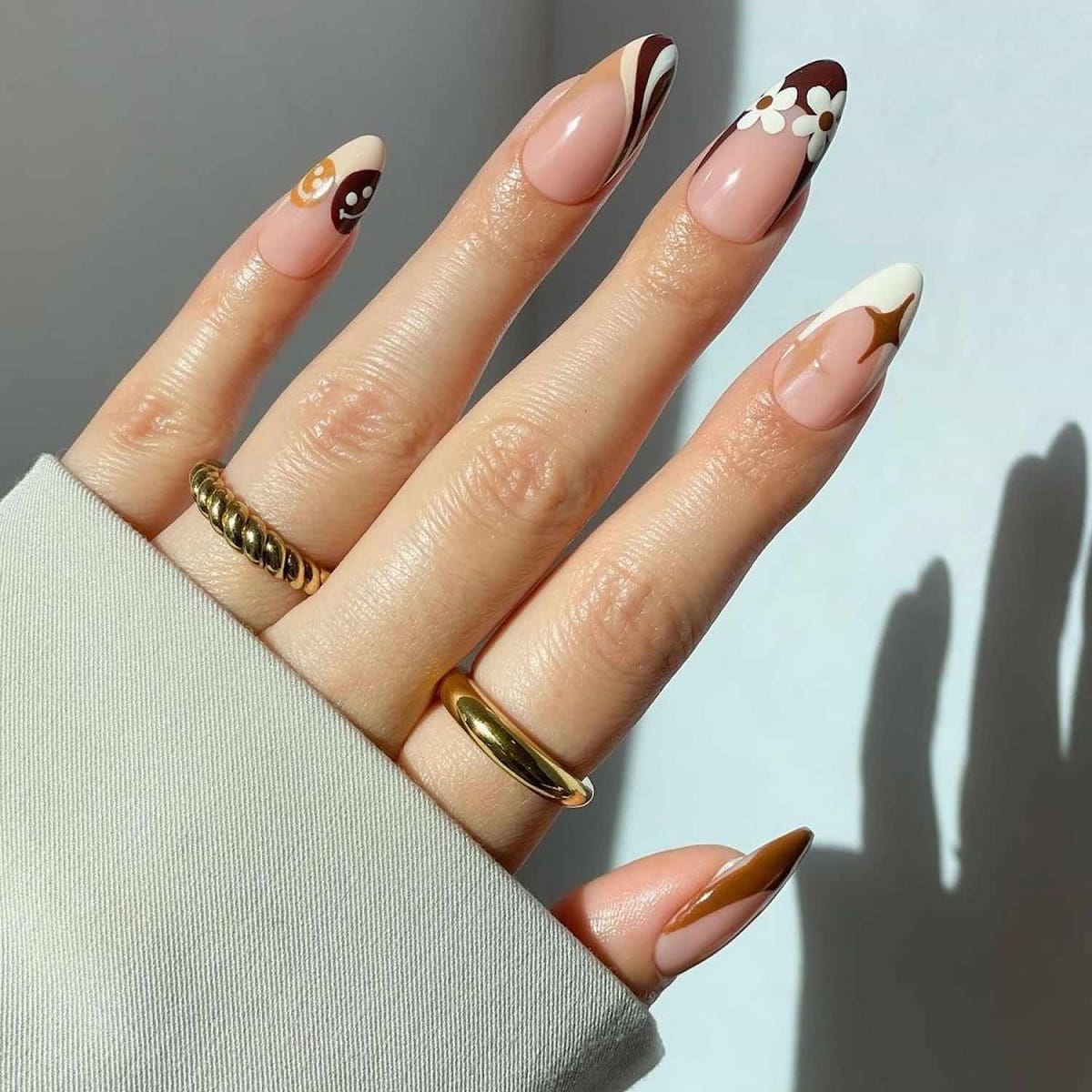 Fall Nails, "Dark French tips on a sheer natural base, like a black tip, are big," confirms top nail artist, Harriet Westmoreland. "They're delicate with a bit of an edge," she explains. "I think the 'cool girl' shape will be a long almond, with a nod to the grunge trend. So a deep french in colors like Lady in Black and Malaga Wine by OPI," Harriet says. Although, if you prefer a shorter shape, squoval micro Frenchies are the way forward.
"Everyone will be asking for deep colored Frenchies," agrees luxury manicurist, Julia Diogo. "Olive green frenchies will be very cool," she adds, or try rouge noir, black, brow or deep forest greens.
Fall Nails, And the Frenchie style will be getting a little remix, too. "As autumn approaches, it's no surprise that we will witness exciting twists on the classic French tip manicure," says Jess. "Side French tips and reverse French tips have gained popularity as they offer a playful and refreshing take on the traditional style.
These variations allow you to mix things up and add a touch of uniqueness to your manicure. What's even more captivating is that these designs can be executed with a dark color, deviating from the classic white. This adds a touch of sophistication and elegance, making it perfect for the winter season," she says.
3. Modern red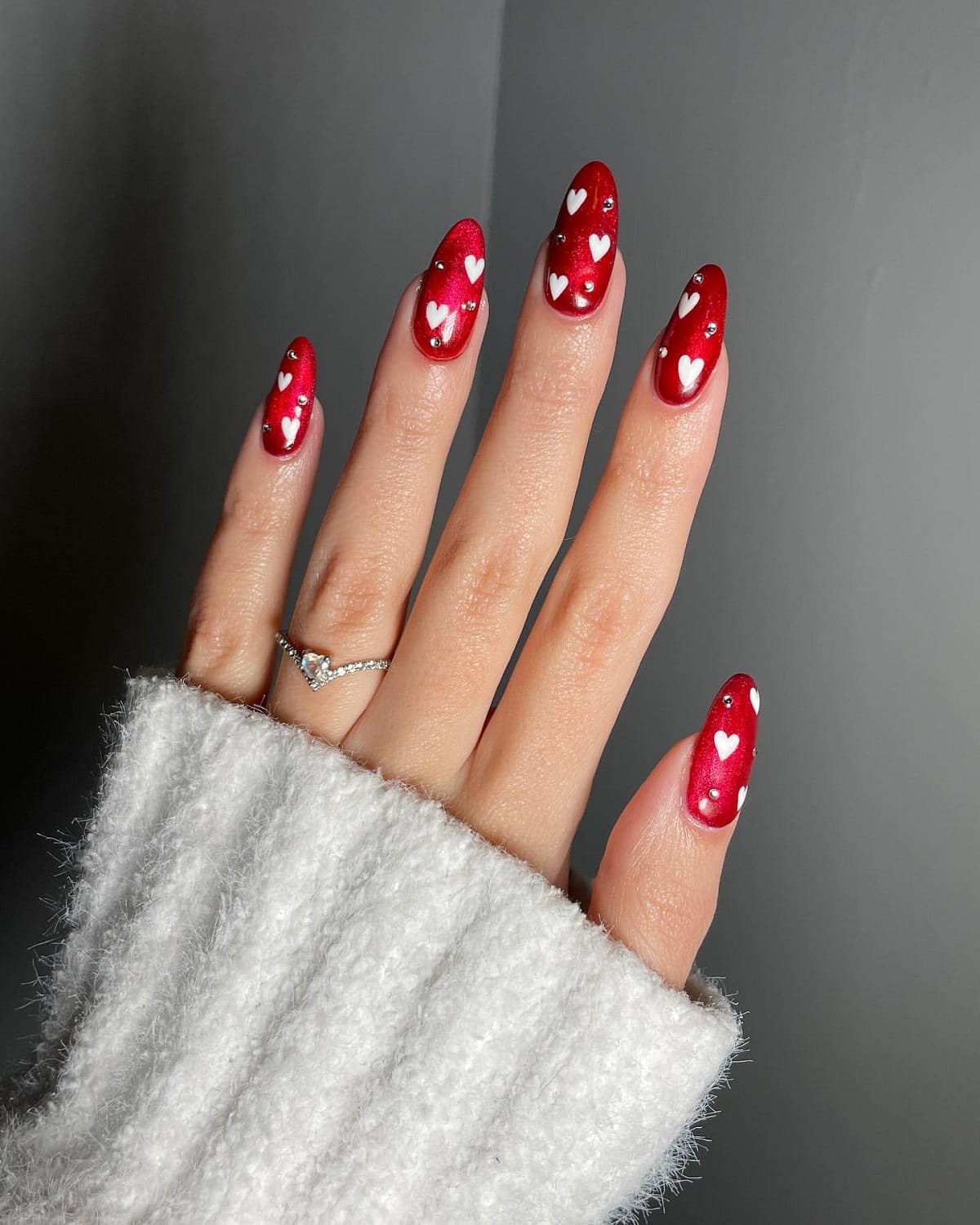 Fall Nails, Red nails are perhaps one of the most classic shades of all. Movie star, Hollywood red has an old-school glamour to it that will never grow old, but it definitely simmered a little while trending shades like blueberry milk and glazed pink hogged attention.
But, celebs like Hailey Bieber, Zendaya, Selena Gomez, Kylie Jenner and JLo have all jumped back aboard recently. We've even seen it remixed with modern twists, like red chrome and fiery sheens.
4. Matte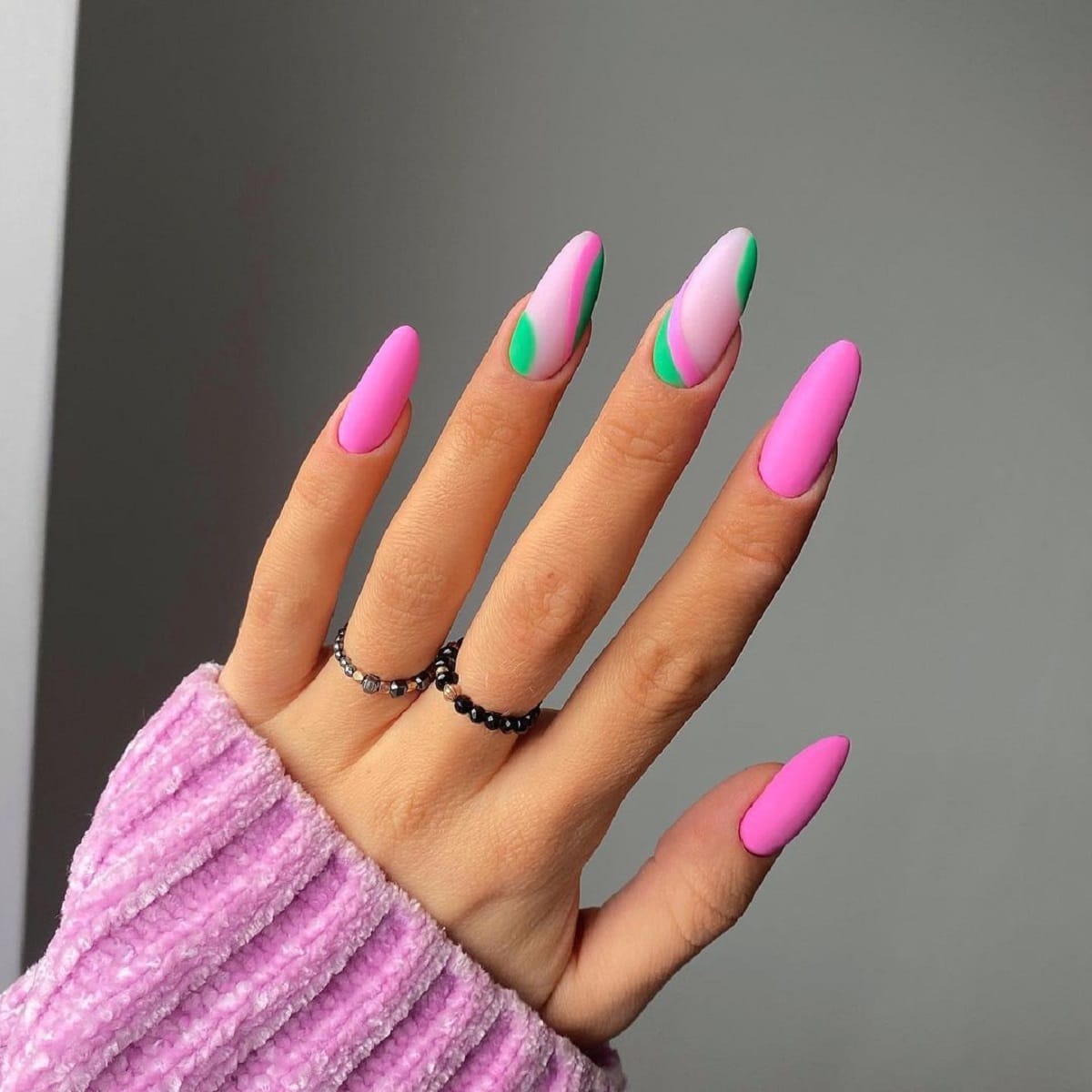 Fall Nails, As with makeup trends, where autumn tends to see matte foundations and formulas re-enter our makeup bags, matte polish is a very chic way to nod to autumn, whatever polish shade you choose. That said, it works especially well with deep shades of black, bordeaux and brown.
5. Syrup nails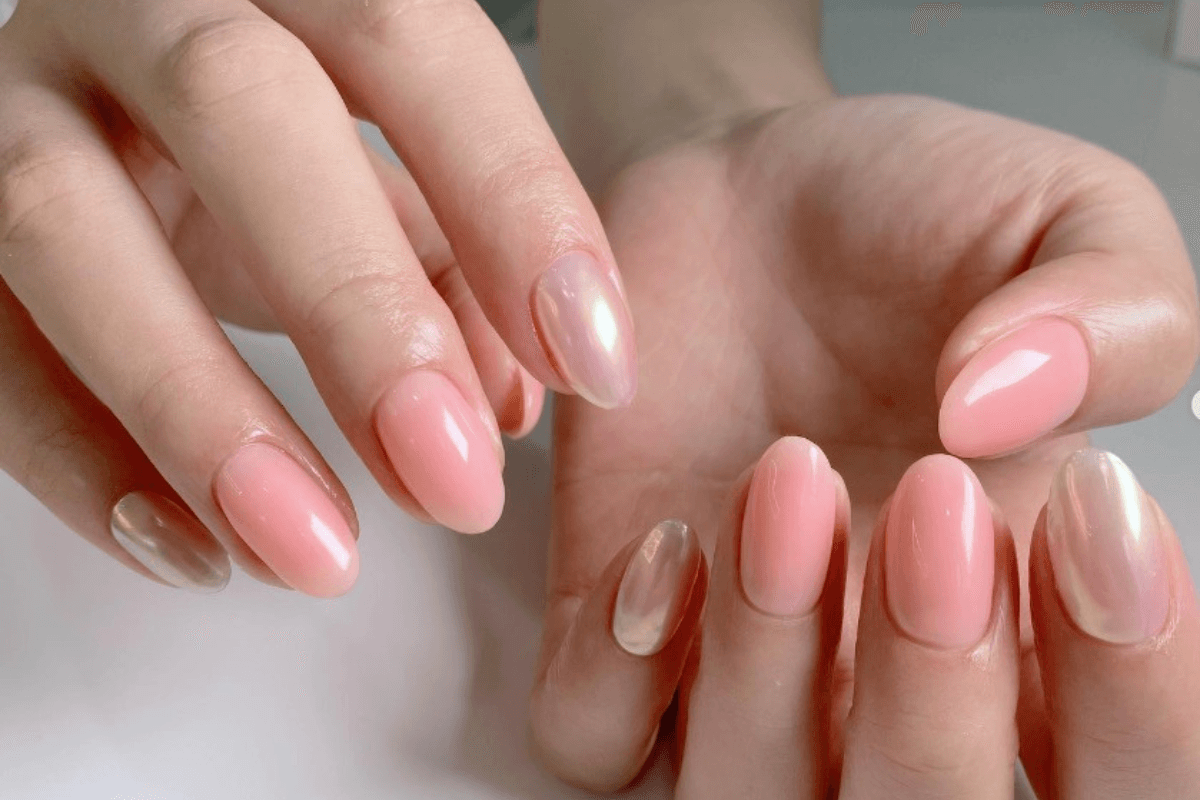 Fall Nails, An up and comer that you'll be seeing a lot more of, is syrup nails. "This trend originated in Asia a while back, and now seems to be taking over," confirms celebrity manicurist, Michelle Humphrey, who counts Dua Lipa and Adele as clients. "This is where glass or jelly colors are layered over the nail to give a sheer syrup effect, and it can be developed into bespoke designs with several colors.
Fall Nails, For autumn, it works so well with subdued and muted tones: think honey, amber, glass bottle greens, dark purples," says Michelle. And it works as a Frenchie too. "Try a more intense saturated pink base or even a honey shade, then layer the tip over the top," she says.
6. Chrombre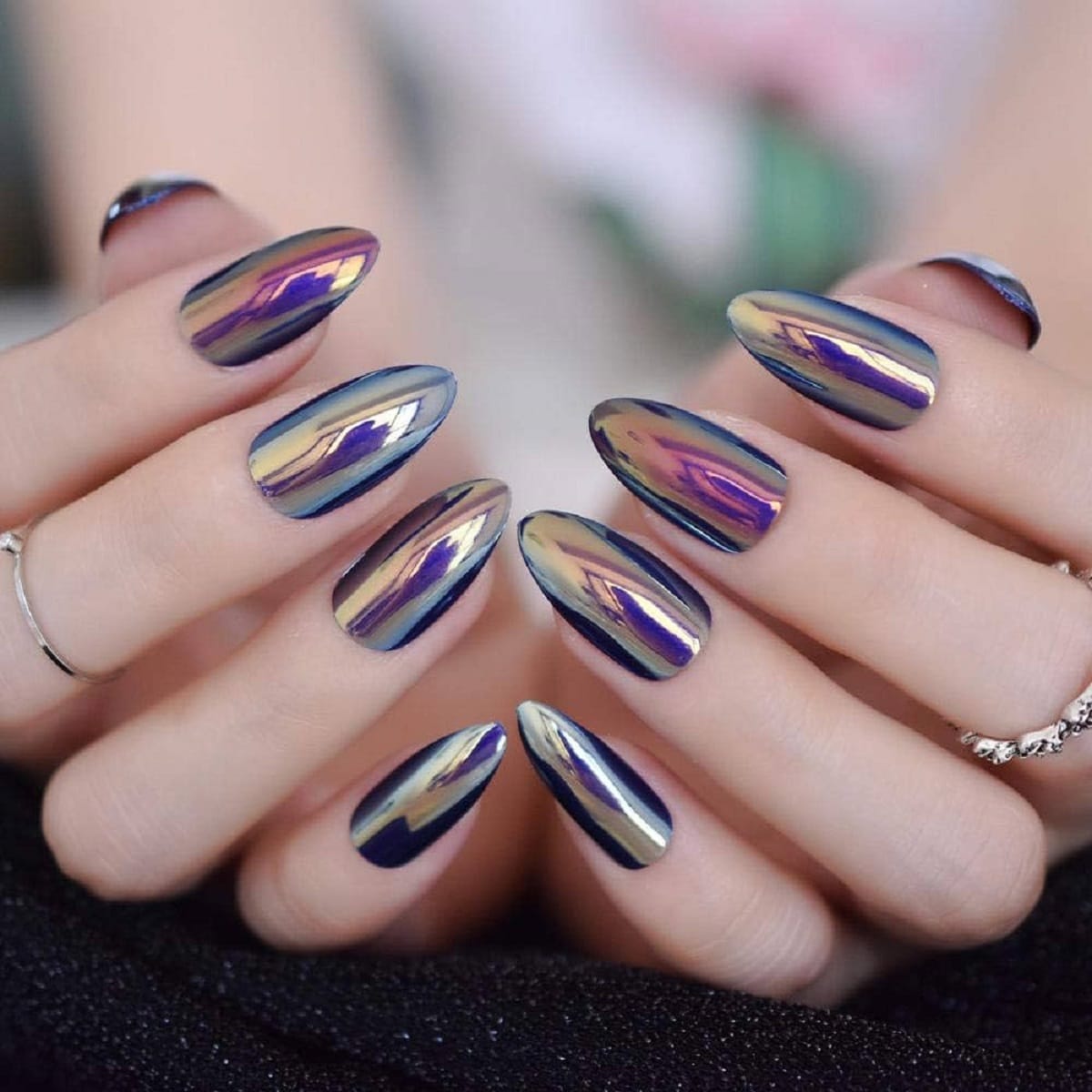 Fall Nails, After a few seasons in the spotlight, chrome remains on the agenda. "Yup, more chrome. Chrome is pretty much killing it at the moment," says Michelle.
Fall Nails, But for a new twist, try "chrombre" – a chrome ombre. "Have your nail tech create an ombre nail using the colors of your choice, then apply a sheer chrome over the top." says Michelle. "It can be done in any color, it's so versatile," she adds.
7. Monochrome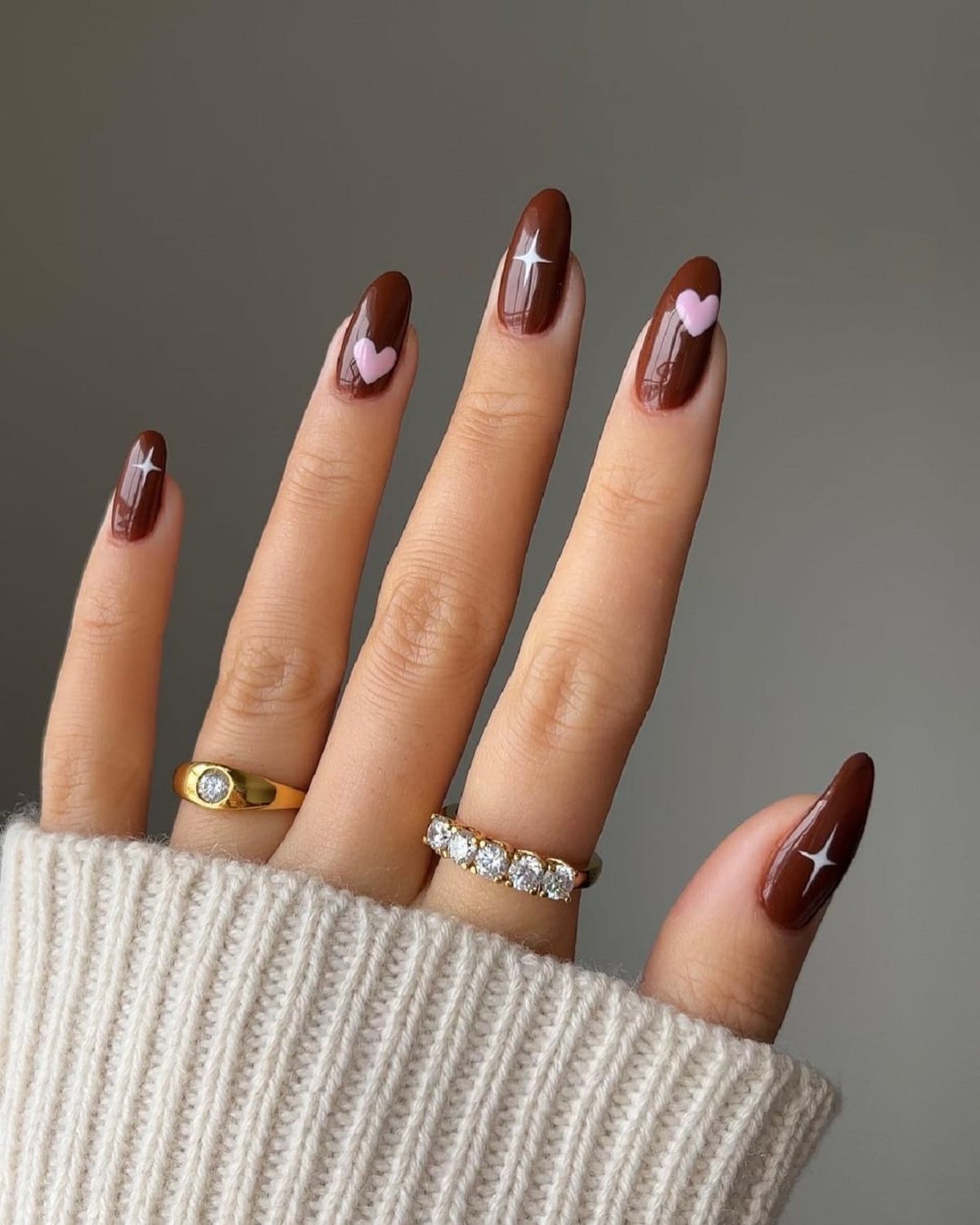 Fall Nails, If you sit somewhere between a minimalist and a maximalist, monochrome nails may be the way to go. The black and white colour palette keeps things simple, but the opportunity to introduce pattern is endless. "I think we'll be seeing lots of monochromatic nail looks," confirms pro nail artist and OPI ambassador, Iram Shelton. "As winter approaches, it's evident that dark nails will take center stage in terms of popularity," agrees Jess, who also predicts "striking monochromatic" nails will be big.
8. Short nails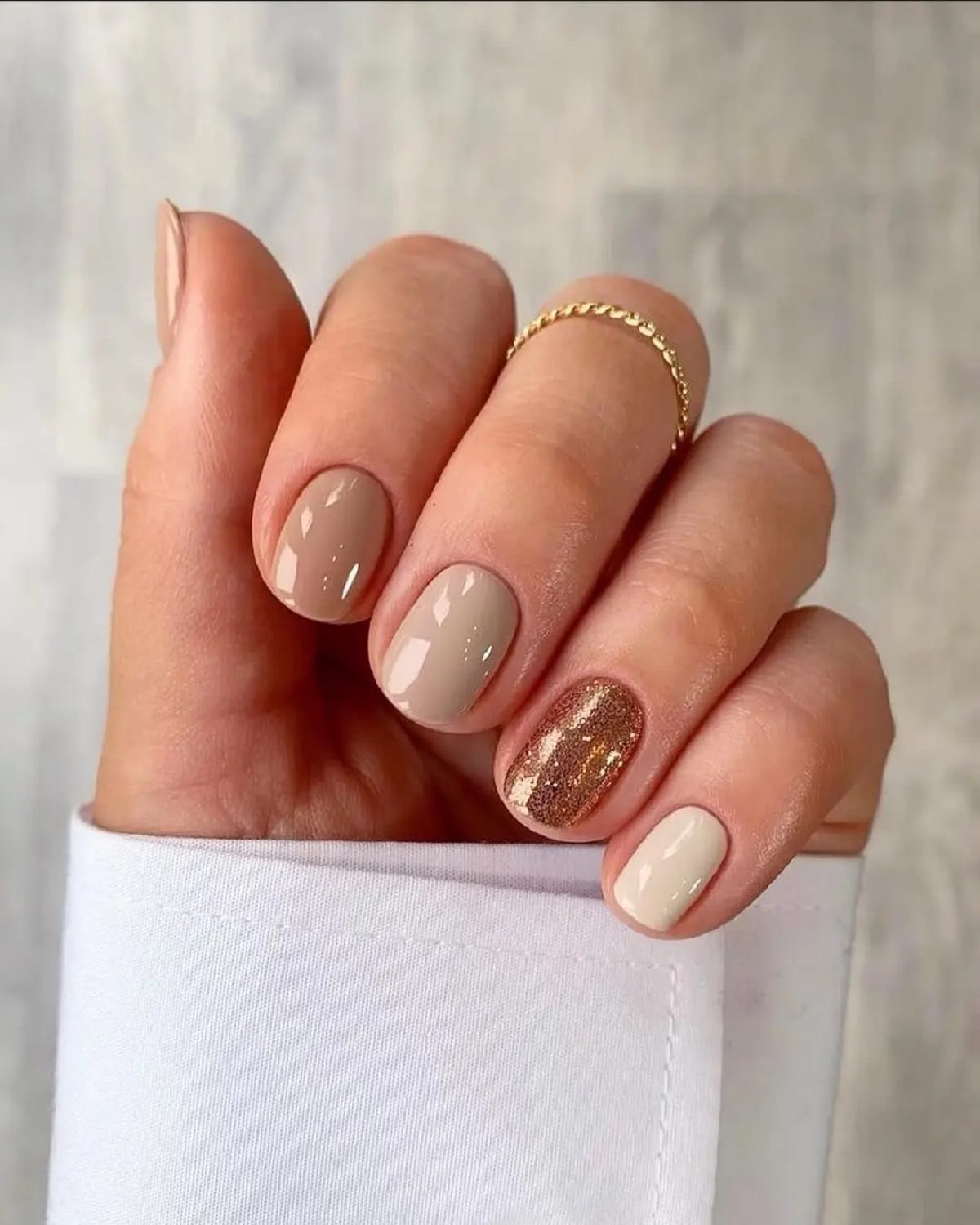 Fall Nails, For the new season it looks like we're going back to basics with short nails becoming more popular. "I think that short nails are definitely in this autumn!
After a summer of flaunting long fun nails, it's time to cut them back and bring in the new season with fresh short nails. I think many will agree with me when I say that September, with its aura of fresh beginnings, is the perfect time to embrace short nails as a symbol of the new season," says Jess who points out: "short nails are also super practical."
Fall Nails, As for how to shape them, "I've had several requests from my clients for a squoval nail shape – which is a square/oval shape, think straight side walls with a rounded tip – this is a very old school nostalgic shape and I expect it to grow in popularity this autumn-winter," says Michelle.
9. Blush and eyeshadow nails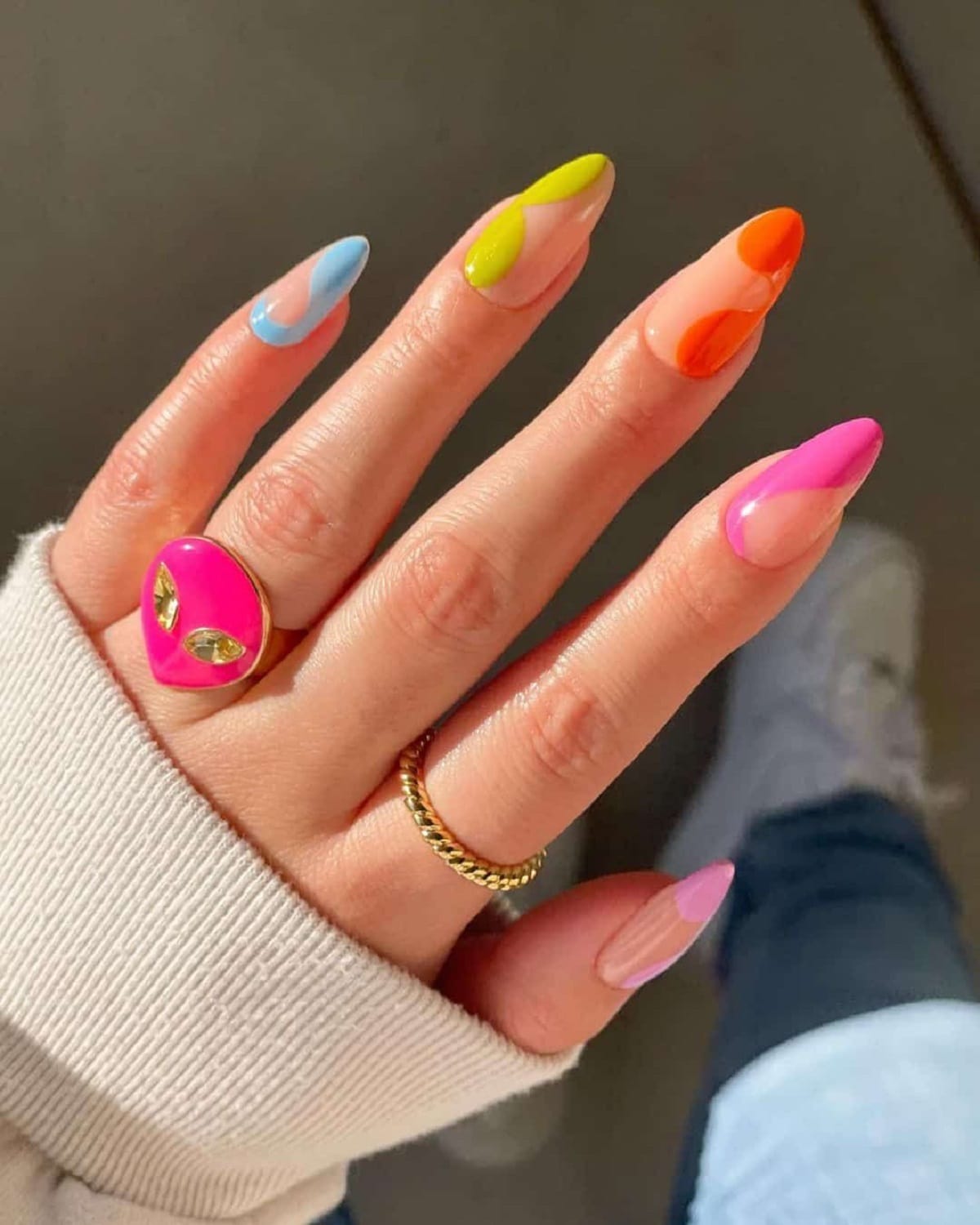 Fall Nails, If you love something with a little more design going on, "eyeshadow and blush nails have become a captivating new technique that is taking the nail industry by storm.
This innovative approach involves using a fluffy brush to delicately tap powder onto the nails, resulting in a stunning airbrushed effect. It's an incredibly fun and creative way to infuse your manicure with a burst of colour," says Jess
10. Olive and forest green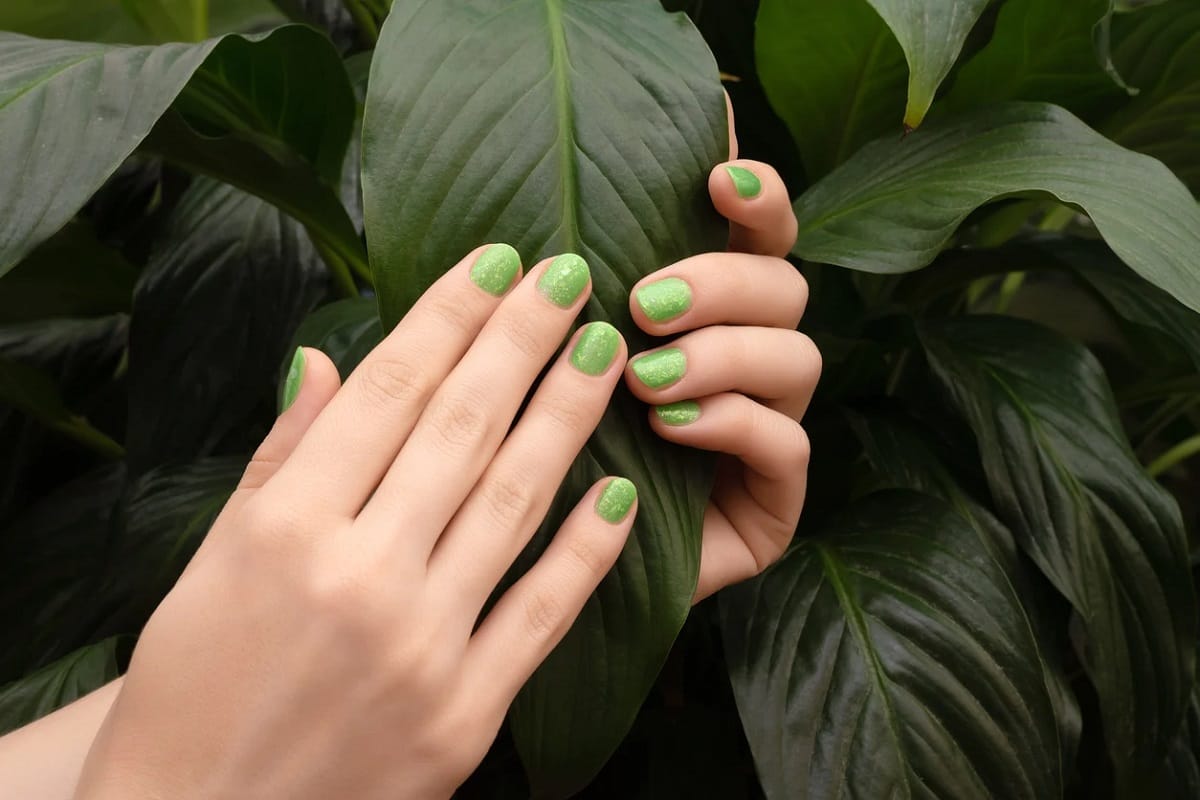 Fall Nails, Yes it comes back every autumn, but just because it's classic, doesn't mean that green isn't a major trend for autumn. Avo is perfect if you want an offbeat shade, but if you want something a little deeper, forest green will continue to trend after headlining last autumn. "Biosculpture do an amazing shade called Free Lovin which is a super deep forest green," says Julia. "I definitely think olives and matcha greens will be very popular to," she adds.
Fall Nails, And, with social media crowning new trends every day, the shade could be repackaged and re-energised. "Be prepared for there to be lots of new names for classic colours – not too long ago Sofia Richie had everyone calling pastel blue nails blueberry milk nails. So, you never know the olive and matcha manicure could be the new thing," says Julia.
11. Moody tones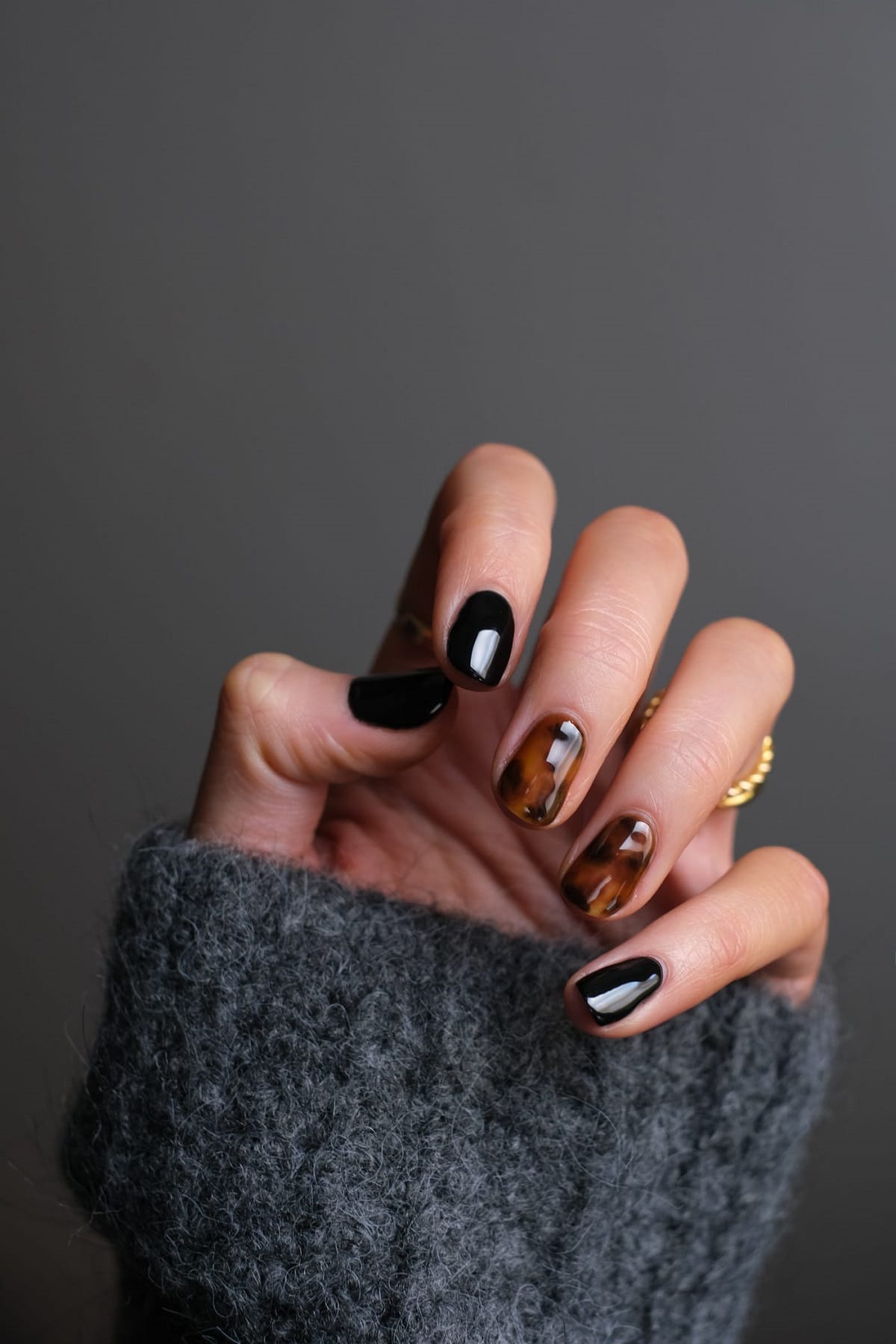 Likewise, moody tones will have their moment. "I think we'll see trends moving towards the moodier tones and incorporating an accent of these colours whether all over, as a french tip, or nail art,"
says Harriet. "Subdued tones and earthy colours like browns, taupes, off whites, forest greens, grey toned blues, and burnt oranges will be popular," says Michelle. "We're seeing lots of the colours of nature for autumn-winter: the deep reds, taupes, browns, blacks and dark blues. The classic autumn shades are just forever chic," Harriet adds.
12. Glossy black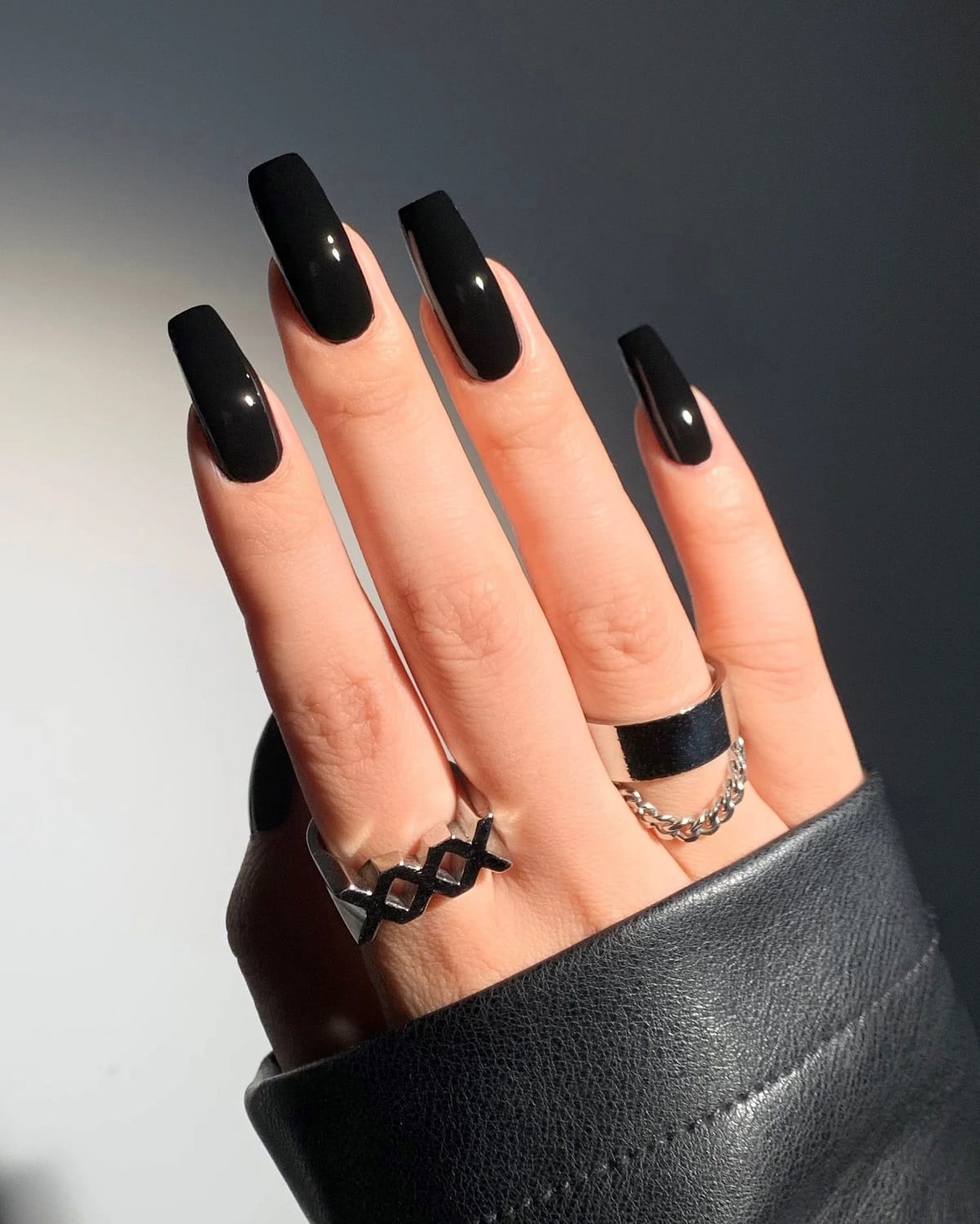 Fall Nails, "The darker colours are definitely going to be a hit with my favourite being a glossy black nail. You just can't go wrong with it," says Iram. "Gucci Beauty's nails polish in Crystal black paired with beautifully manicured nails is *chefs kiss*," she adds.
13. Naked nails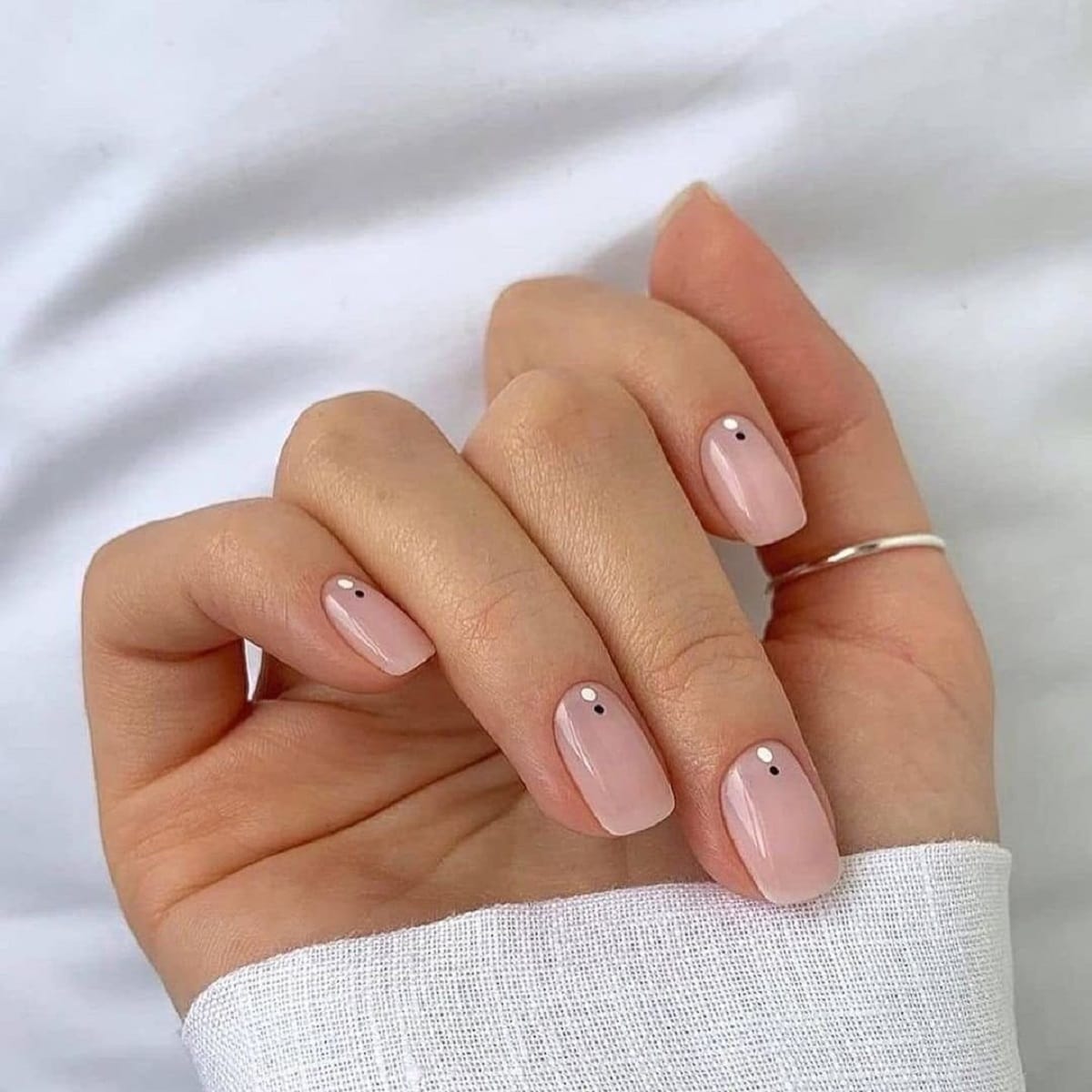 Fall Nails, "In my opinion, clean glossy nails will still be very much in this autumn-winter. People are still really stripping back and it's lovely," says Julia who recommends neutrals to match individual skin tones. "The trend of the 'barely-there nail' is gaining popularity at the moment, and it's no surprise to see it making waves across social media," agrees Jess.
"This minimalist design involves applying a super sheer nail shade, such as OPI's 'Love is in the Bare' or 'Put It in Neutral' to create the illusion of naturally flawless nails. It's like having your own nails, but enhanced and perfected," she adds. "I don't think the sheer and milky neutrals will be going anywhere in autumn, as they're such a chic, fresh, classic that work for everyone," Harriet concurs.
Fall Nails, As for colors, "OPI bubble bath and Chanel Ballerina are my go to nudes," says Iram. "They are staple colors that can be worn alone or as a base for nail art or a french tip. These are a hit all year round."
Also Read:
White Spots On Nails: What Are White Spots On Nails And How To Get Rid Of Them?
10 Artistic Natural Nail Designs You Can Do At Home
7 Top Acrylic Nail designs Every Girls Should Know
Nail Art: 14 Elegant Types Of Nail Designs+Photos
Eye Make-Up: 5 Steps Eye Makeup For Blue Eyes